Media Server specialist Modulo Pi has announced full compatibility between its Modulo Kinetic media server and L-Acoustics' L-ISA Immersive Hyperreal Sound technology. Bidirectional interaction available between the video toolbox and spatial audio processing provide a complete A/V real-time production suite.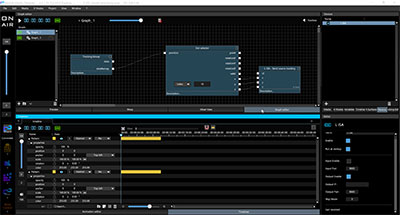 In its next generation of media server solutions, Modulo Pi has developed Modulo Kinetic, a super high-end and fully integrated solution. Launched in 2016, Modulo Kinetic is a field-proven by major venues such as the Puy du Fou theme park and Atelier des Lumières digital art center.
Full integration of the L-ISA technology is now included in Modulo Kinetic's extensive library of preloaded devices, allowing bidirectional interactions between Modulo Kinetic and L-ISA. Operators can easily control the L-ISA solution directly from Modulo Kinetic, enabling spatial audio control from the media server's timeline sequencer, 3D engine, nodal editor or embedded show controller. The L-ISA system can also send data to Modulo Kinetic – such as audio source pan, width, distance and elevation – in order to interact with media encoded in the media server, or generative content created with Modulo Kinetic's 3D engine.
In addition, KineMotion, the tracking module within Modulo Kinetic, has become a certified tracking system for L-ISA. Available as an option for Modulo Kinetic, the new optical tracking module offers automatic sound source positioning when working with L-ISA.
'L-ISA opens a new creative palette for sound designers, giving them the ability to create fully natural, enveloping soundscapes or the freedom to immerse the listener in any atmosphere they can imagine,' says L-Acoustics MD, Guillaume Le Nost. 'With the integration of L-ISA Controller capabilities into Modulo Kinetic, the art of audio and the art of visual blend, making production of engrossing, amazing shows more intuitive.'
More: modulo-pi.com