Fuzhou Radio and Television, one of the foremost broadcasters of China's Fujian Province, has upgraded its Fuzhou Radio channels to AES67-compliant Ravenna AoIP with the installation of mixing consoles and I/O equipment from Lawo.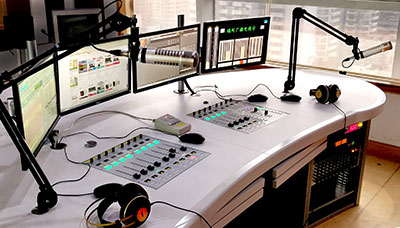 Fuzhou Radio has added two identical on-air studios, each equipped with a 12-fader Lawo ruby mixing console, backed with L,, the most advanced and powerful AoIP mixing engine available to radio. Fuzhou Radio also equipped the studios with Electro-Voice RE27 and Shure MX 418 microphones, Genelec 8030 monitor loudspeakers, Eventide BD600+ broadcast delay systems, and Infomedia AOIPBox terminals.
'Fuzhou Television has worked with Lawo before and has experienced the power of our mixing consoles first-hand with an mc²56 at the centre of its HD OB van,' says Lawo Head of Sales for Radio, Jochen Richter. 'When it decided to renew the radio studios and adopt AoIP, it found our ruby mixing console perfectly suited to its needs. More and more broadcasters are realising the benefit of audio networks based on standards rather than proprietary protocols, and choose Lawo.'
Lawo's ruby console and Power Core engine combination is popular with top broadcasters, thanks to the combination of an uncluttered mixing desk and a powerful DSP mixing engine. Power Core's multiple Madi and AES67 interfaces give access to up to 384 channels of stereo audio, making it a suitable bridge between baseband and AoIP audio.
Eight plug-in slots accommodate further I/O via mic, line, AES3, HD Madi and Dante expansion cards. When paired with a Lawo ruby mixing console, Power Core can provide as many as 96 DSP channels for precision audio shaping, with up to 80 summing buses, multiple AutoMix groups, and comprehensive compression/expansion/de-essing tools. It also has dual, redundant NICs with SMPTE 2022-7 Seamless Protection Switching to ensure instant, inaudible recovery from network faults.
More: www.lawo.com