Part of the Maistra Hospitality Group, the five-star Grand Park Hotel Rovinj on the Adriatic coast of northwest Croatia is a six-storey hotel with 193 guest rooms and 16 suites, plus three restaurants, three bar/lounges, a spa, indoor and outdoor pools and tennis courts, a ballroom, and three combinable multifunction conference spaces.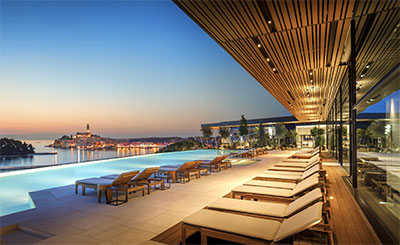 Systems integrator Hust d.o.o. recently completed the design and installation of a 40-zone networked sound system at the hotel employing Linea Research amplifiers, managed by a Biamp Tesira Server-IO AVB digital network server. 'Linea Research amplifiers are one of the most reliable amplifiers that we've used in our projects,' says Tomislav Stubican of Hust d.o.o. 'We have never had a problem with them, so they were the right choice for a demanding system that needs to be always running. We especially like their sound quality and their performance. Price is also a big benefit of Linea Research amplifiers.'
The hotel's grand ballroom is equipped with Community V Series and D Series loudspeakers. More than 700 Apart CM series ceiling loudspeakers and Mask Series surface-mount speakers deliver background music to the public areas, such as the lobby, restaurants, conference rooms, and pools. An audio mixer supports live performances.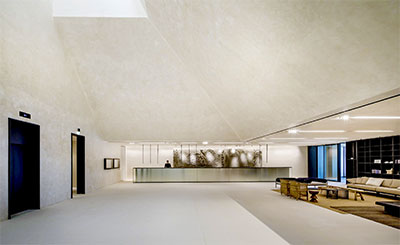 To drive the loudspeaker systems, the Hust team chose Linea Research XiB4 and 44C amplifiers. The XiB4 is a four-channel amp that delivers up to 1,250W RMS continuous power per channel into 2Ω, with all channels driven. Its tamper-proof front panel is especially valuable in a publicly accessed space such as a hotel or conference centre.
The Linea Research 44C Series four-channel amplifiers includes three models, the largest of which is the 44C20, which can deliver up to 5kW RMS of continuous power per channel into 2Ω, with all channels driven. These extremely efficient and powerful amplifiers are optimized for installations and are often chosen for Audio-over-IP networks.
Both models feature 96kHz DSP: 'We work with equipment that needs tuning, and we want to offer our customers the best experience, so we use the Linea Research amps' DSP to provide the best possible clear sound with maximum power,' Stubican observes. 'Our in-house engineers are all trained in the software and understand how to get excellent results. As a result, we did not need much technical support. However, we did ask Linea Research a few questions, and we got answers the same day.'
Hust provided A/V system control and monitoring using a GUI that runs on any computer in the hotel network and also with wall-mounted OLED controllers located throughout the facility.
'The Grand Park Hotel Rink is the most fashionable and sophisticated hotel in Croatia,' Stubican says. 'Satisfying the architects' and hotel owner's wishes was extremely challenging but by carefully selecting brands such as Linea Research that offered the highest standards of audio performance, we met their requirements. Linea Research amplifiers' power, reliability, and value make it easy to choose them for our projects.'