An intensive four-day songwriting camp brought a party of songwriters and music publishers' reps from Canada to East London's Strongroom studios – presenting Strongroom Technical Manager Jake Murray a challenge. One that he met by equipping six workstations over three studios with Six Audient iD4 audio interfaces.
'It was a complicated set-up with a lot of moving parts, but having everything centred around the iD4 just meant the producers had some continuity between every room,' he confirms. 'We used the same speakers, microphones and interface in all six rigs, so the biggest variables were the rooms and the co-writers. We were particularly proud of how well the 'B rooms' came together, as they were set up from scratch.'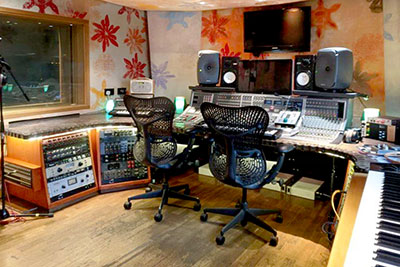 Facilitated by Phrased Differently and organised by Music Publishers Canada, the event was the inaugural Create UK export initiative to connect music publishers and their songwriters with key business and creative contacts in global markets.
Supplied by studio equipment specialist Kazbar Systems after a serendipitous phone call, the six interfaces arrived from Audient HQ in time for Murray to familiarise himself with them during the set-up. 'We put a DI guitar and vocal mic through the two inputs of the iD4 in each room and had it feeding the speakers too, so I got a good idea of the sound and feel,' he says. 'They're really handy little units that I can see being invaluable for people on the move, and particularly useful for ad-hoc B-rig set-ups like the ones we put together for the Create UK writing camp.
'Everybody was really pleased with how accessible the workflow was,' he reports. 'We had 20-or-so writers and producers in total working together on songs throughout the week, moving between rooms each day and gathering together at the end for a playback session.
'It couldn't have gone more smoothly, which in such a large-scale operation is all you can ask for. I think that comfort and consistency in hardware setup really helped people to focus on the creative process instead of being bogged down in tech faff, and the iD4s were a huge part of that.'