Recently completing the first step of a multi-phased initiative to update its worship centre, the Willowbrook Baptist Church has had a Klang:fabrik immersive in-ear monitor mixing system installed by integrator Redwire Audio Visual. The system offers up to 16 musicians individual IEM mixes over RF transmitters or headphone amps via XLR. Klang:fabrik is also a flexible audio network router, supporting up to 64 Madi, 64 Dante and 32 Adat-compatible inputs and outputs.
The installation was made at Willowbrook Baptist Church's main campus in Huntsville, Alabama. 'The worship orchestra had been frustrated by the lack of flexibility with their old IEM system, so we brought the Klang:fabrik in for a demo, and they experienced a huge difference immediately,' reports Redwire A/V President, founder and General Manager, Tim Johnson. 'The Klang system was part of the first phase of the church's update, and it has proven to be a critical component of it.'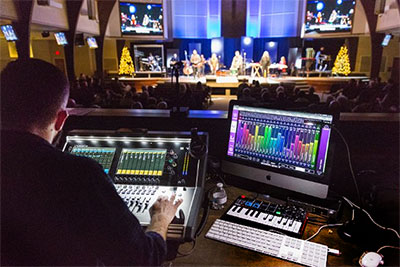 Johnson says the Klang:fabrik's ability to operate at 96kHz offers a much higher level of sonic fidelity to the musicians. Additionally, the ability to move mixes around in a fully immersive space has changed how the players hear themselves and the music.
'They literally had no idea this science was possible,' says Redwire A/V Lead Designer, Charles Thompson. 'They can put the click above their heads, for instance, and build a virtual stage that reflects where each of them are standing on the actual stage. This creates a realistic in-ear environment that helps them hear everything accurately, because they can hear each other where they are physically, not just left and right. It's made a huge difference for them.'
Johnson adds that this kind of immersive monitoring environment on stage also helps keep volumes down, which is good for both the music and the congregation in the 800-seat sanctuary. 'It also really cleans up the stage, so it all looks a lot better,' he says. 'Everyone is already using an iPad for charts, so the Klang just plugs into that same device, keeping things very uncluttered.'
The Klang:fabrik takes its feeds from a new DiGiCo S21 console via Dante and three DiGiCo A168 Stage I/O Expanders. 'The S21 has made a huge difference in the church's sound,' Johnson says. 'It's even made the existing sound system perform better, with excellent clocking that dealt with digital "smearing" issues they had with the previous console.
'And the operation is very volunteer-friendly. The church has a full-time media director on staff who does a lot of the front-of-house mixing, but they rotate mixing duties for the three or more Sunday services every week, and they have all taken to it immediately.'
DiGiCo's US support staff at distributor Group One has provided consistent support throughout: 'They were there for the installation and for initial training on the console, and they went above and beyond to make that a great experience,' Johnson confirms.
Willowbrook Minister of Production Chris Olson says tat the church's musicians were taken immediately by the Klang:fabrik's sound and ease of use. 'They're able to put their instruments exactly where they want in the sound field and spread the entire image out nicely, which really makes them more comfortable on stage,' he says. 'Plus, it does help keep the stage looking neat and clean, so it's all just plug-and-play for our tech team, with everything on just a single Cat5 cable, and by eliminating all of the individual mixers on stage.'
In fact, the orchestra and church liked what the Klang:fabrik does so much for all of those reasons and more that a second unit has already been ordered, to be installed in the next A/V upgrade phase, which Olson says will provide the musicians with even more channels to build their custom mixes on stage.