The Country Music Association's CMA Country Christmas concert relied extensively on microphones and wireless systems from Audio-Technica for its recent broadcast on the ABC television network.
Audio-Technica's Third-Generation 5000 Series frequency-agile true-diversity UHF wireless system with ATW-C5400 microphone capsules powered the vocals for artists including Christian pop crossover sensations For King & Country and gospel legend CeCe Winans. The show also used wired A-T microphones, including several AT4050 large-diaphragm condenser microphones on the choir.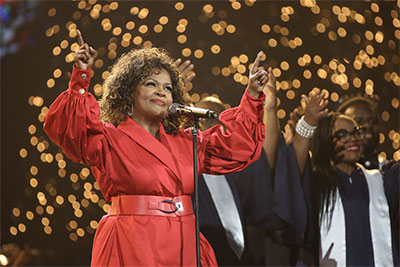 Clean Wireless Audio owner Jason Glass – the wireless RF coordinator for the CMA on this and other events – managed the wireless systems withTom Davis serving as audio producer.
The 5000 Series dual receiver uses proprietary dual-compander circuitry that processes high and low frequencies separately along with True Diversity operation. The receiver has been updated with a tuning bandwidth of 148MHz: 470-608MHz and 653-663MHz (duplex gap), and users now have the option of selecting a standard receiver with two balanced XLR outputs (ATW-R5220) or a receiver that also includes a Dante output (ATW-R5220DAN). The full-rack receiver chassis holds two independent receivers and offers antenna power, frequency scan, IR sync functionality, a ground-lift switch, and a front-panel headphone jack.
Other new features include an antenna cascade output that connects up to eight receivers so a single pair of antennas can feed up to 16 channels of wireless, an auto squelch feature that automatically adjusts the squelch setting to maximise operating range while minimising potential interference, and a backup frequency that can be quickly swapped by pressing the transmitter's multifunction button in the event of unexpected interference. Software enables remote monitoring and control of the wireless system.
More: www.audio-technica.com