Montreal-based LS Media has joined the Flux:: Immersive Consulting Group, a coalition of companies and individuals providing service and support for the deployment of Flux:: Spat Revolution and other Flux:: Immersive audio products and technologies.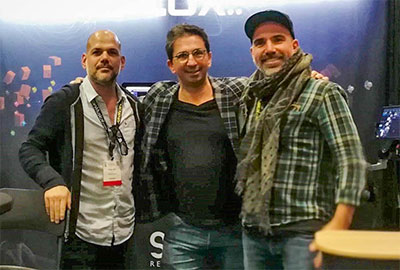 Founded in 2006 in France, Flux:: creates intuitive and technically innovative audio software tools used worldwide by sound engineers and producers in the professional audio, broadcast, post production, and mastering industries. The company is at the forefront of the immersive audio revolution, teaming with research institute IRCAM to provide groundbreaking reverberation, acoustics, and spatialisation technology and research.
LS Media provides a variety of services for the professional audio market, including design assistance, system commissioning, pre-design, operator and system training, and hardware testing, qualification and support.
'LS Media will still be an Avid Learning partner and will continue to provide Avid certification and commissioning,' says LS Media Business Director, Hugo Larin, 'The big news is that as part of the Flux Immersive Consulting Group, we're now providing our services for the deployment of Flux:: immersive technologies, including Spat Revolution. We can help with design assistance and pre-design support, and provide consulting services when people are not quite sure where to start when putting together a Flux:: immersive system. We'll go all the way to hardware qualification, hardware support, and specifying which components should be deployed.'
'LS Media is an essential partner in the Flux Immersive Consulting Group,' adds Flux:: founder, Gaël Martinet. 'LS Media brings in-depth technical expertise and extensive experience providing high-level design, consulting, technical support, and other services for audio professionals. In particular, Hugo Larin has been a key collaborator in the Flux:: Spat Revolution audio engine project; he has deep roots in audio mixing, design, and operation, as well as in networked control and data distribution. With the addition of LS Media, the Flux Immersive Consulting Group is far stronger. Customers wishing to deploy Spat Revolution and our other immersive audio technologies can now access a level of service that was not previously available.'