Aiming to make its product line easier to understand and specify, EM Acoustics has undertaken a 'comprehensive reorganisation' of all product ranges such that they are logically grouped by type and application.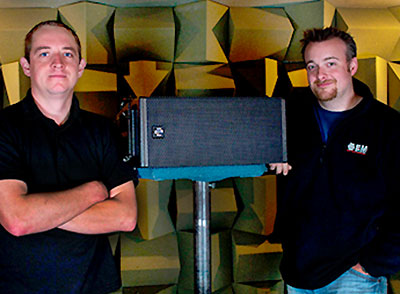 Additions to the EMS Series of point source loudspeakers include the EMS-101X, which features a proprietary 10-inch drive unit and sits between the 8-inch EMS-81X and 12-inch EMS-126/EMS-129, and, updated with a new grille treatment and weather resistant options, new EMS-156 and EMS-159 models that were part of the MSE Series.
All subwoofers are now grouped together in one new S Series product family, with a wide range of offerings from the sub-compact quad 8-inch S-48, through single 12-inch, 15-inch and 18-inch front-loaded subwoofers, and up to groundstacked and flyable dual 15-inch and dual 18-inch models.
The medium-format Halo-B, launched earlier in 2019 concludes the Halo line array family, along with the large-format Halo-A and compact format Halo-C, making a complete and compatible line array offering for fixed and portable applications from corporate and theatre to concert touring and festivals.
A new hard-wearing three-step polyurethane finish has been introduced as standard on all tourable loudspeaker systems, and as an option on other ranges, as well as white and custom RAL finishes that always available.
EM Acoustics is also promising a new Reference Series of theatre loudspeakers to be launched early in 2020.
More: www.emacoustics.co.uk