December saw the opening of Rugby Portabello Trust's music recording facility Amplify Studios. Their mission is to help revive London's North Kensington and empower young people through art, music and entrepreneurship.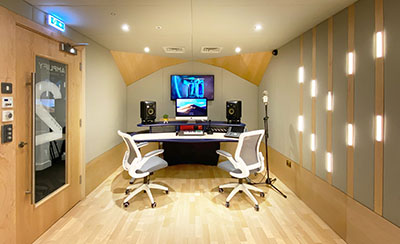 The studios form part of a two-phase project to provide the local community with a safe place to explore music, nurture their passions and gain industry skills and opportunities. Studio design consultancy Veale Associates collaborated with Academia Creative on the project. Part of the refurbishment and first phase of their work was to overhaul the existing vocal booth and mac lab with new acoustic treatments and audio equipment. A new control and mix studio was also designed that doubles up as a wellbeing suite.
'It was critical for us to work with the young people who use the facilities, to understand what drives them and what will inspire them so the facilities would be a place they will be proud of and would want to be.' says Veale Associates Creative Director, Eloise Veale,.
The development is part of the Rugby Portobello Trusts programme to 'enrich and expand horizons for children and young people in North Kensington'. The Trust has seen many famous artists through its doors, including a young Rita Ora, AJ Tracey and Big Zuu. Amplify Studios will not only provide its existing users with professional studios but support RPT's ethos of being a safe haven by removing barriers to entry and allowing young people to develop their strengths and creativity, and to communicate and collaborate.
Amplify Studios will be an example of what's possible when musicians and community embrace an entrepreneurial spirit, and work with young people using music and technology. Amplify Studios will provide a crossover of professional and amateur experiences to provide advanced job skills and opportunities in creative industries.
'The project proved to be a significant success due to its time line. Most projects of this kind have minimum lead time of four months for design and install and VA only had six weeks due to the nature of the programme' says Veale Associates Head Consultant, Eddie Veale. 'All acoustic projects are different, and this one presented the particular challenge of designing a set of studios to a very tight program. We are thrilled to be part of this project supporting the Rugby Portobello Trust to meet their aspirations for the community of North Kensington.'
'Veale Associates has transformed our studio spaces,' says Rugby Portobello Trust CEO, Mark Simms. 'The team has done an amazing job and every detail has been designed around the young people's ideas without compromising the quality of the sound. Already the feedback has been fantastic: our young people can't wait to get in there and start making their own music.'