Racking and flightcase hardware manufacturer Penn Elcom has launched a web app-based service for anyone wanting to build custom 19-inch rack panels. Panel Designer is a fuss-free facility enabling anyone to design and order 'dream' rack panels, adding practical, individual, cool or funky touches.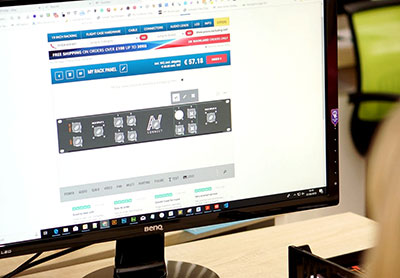 With its Drag-Drop-Delivered model, Panel Designer is aimed at installers, system integrators, A/V and production professionals – rack builders from all sectors of entertainment technology. As it is internet-based, a variety of devices can be used to access Panel Designer from anywhere and at anytime without the use of complex software or requiring in-depth graphic design skills.
Users then browse through a variety of pre-made cut-outs indexed by category (power, audio, video, fan, multicore, Harting, sub-D) any of which can be dragged into place on a panel (currently sized between 1U and 6U) and labelled using the text function. Graphics, logos and other branding artwork or text can be uploaded and positioned on the designed panel.
The cut-outs snap into place automatically on the design drawing, leaving the correct spaces for connectors and fans. painted ensuring the best possible looks and a stunning finished product. Once the panel design is complete, the price is displayed (helpfully, this increments as the panel is being built) and the 'order' button is clicked, then the design moves straight into production at Penn.
Customers receive an email when it's ready, and the product can be shipped to all Penn Elcom's regular destinations via the worldwide distribution network.
More: https://bit.ly/2XL3jPc