Among the most influential and popular recording artists of all time, The King of Country – George Strait – officially retired from touring after his 2012-2014 Cowboy Rides Away tour but remains active on the live secene. Most recently, he was one of the first headliners at Fort Worth's new Dickies Arena, playing two back-to-back shows.
With those and others now being mixed on a DiGiCo SD12 96 desk at front of house, Strait stays at the forefront of live sound technology. Commissioned by Epicenter Productions of Dallas, the console was acquired by George Olson, who has been with Strait since 2004.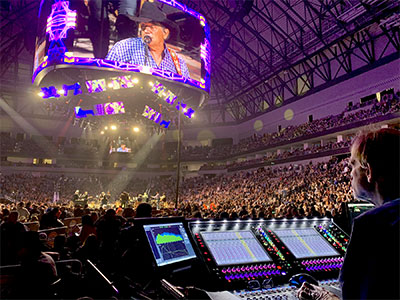 'It was the SD12's compact size, and the power that it packs into that footprint, that really convinced me to go with it,' says Olson, who had raised the console's channel count from 72 to 96 with DiGiCo's latest software, increasing its desirability as a rental unit for his GP Productions company. 'When I looked at its dimensions, I knew that it would fit in virtually any truck or trailer, or the back of any bus, so it would always be able to get to the gig. But when I saw how many features they had crammed into that console, I knew it was the one I wanted.'
Olson cites the SD12 96's two DMI slots, which he's filling with Waves and Dante cards, and the 192kHz SD-Rack that's fully loaded with 56 32-bit mic preamp inputs, 40 analogue outputs and 16 AES connections among those attractive features. 'Plus, the SD12 has the dual screens of an SD5, but in a much smaller size, which makes it great for a wide variety of types of venues,' he says.
Needing to replace his previous console quickly – and on the cusp of a huge show in Atlanta – Olson found switching over to the new desk to be fairly painless. For the sake of timing, Epicenter furnished him with a demo SD12 evaluation unit just a few days prior to the big concert at Mercedes-Benz Stadium, and Olson reports that the transition was a complete success.
'With George Strait, we don't do a week of production rehearsals; we'll just go and do a few songs at soundcheck and then the band leaves, so integrating a new piece of equipment isn't easy,' he explains. 'But in Atlanta, I went backstage that night and was able to build the file I needed for the show using the virtual soundcheck feature. The next night, I heard, Ladies and gentlemen, George Strait!, and with more than 55,000 people in the audience I thought to myself, "Here goes nothing…". And it was flawless. Absolutely perfect.'
Olson says the SD12 96 not only packs a lot of features, but they're so advanced that his purchase will keep bringing positive ROI well down the road. 'I feel that this is going to be the compact console to carry DiGiCo into the future,' he says. 'There is still a ton of headroom in the DSP, and the SD12 went from 72 to 96 channels almost the day I bought it, so this console will be at the cutting edge for years to come.'
More: www.digico.biz