Home to Union College's men's and women's hockey teams, the Frank L Messa Rink in Schenectady, New York, recently upgraded its sound reinforcement system with the installation of EM Acoustics loudspeakers.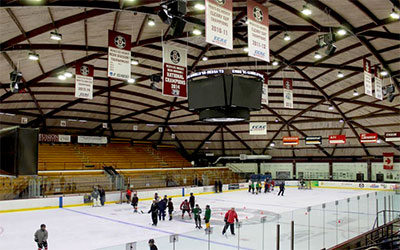 The school athletic department worked with Com Tech owner Charles Zarriello and Rich Trombitas of Cardone, Solomon & Associates, to determine the optimum reinforcement solution for its needs. Com Tech, located in nearby Voorheesville, handled the installation. 'The existing system had been failing for years,' explains Zarriello. 'The technology was old, coverage was poor and intelligibility issues were worse. The new, distributed EM Acoustics system sounds terrific and provides the coverage the college was looking for and that the fans deserve.'
Trombitas recommended a total of six loudspeaker clusters, with three distributed evenly on each side of the rink. Each cluster consists of an EM Acoustics MSE-159, EMS-121X and a Halo-C subwoofer.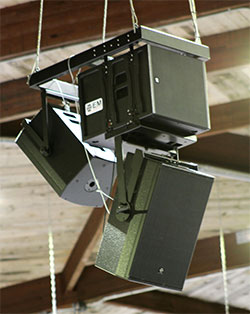 'The ice rink is located in a geodesic dome on campus, which can make installation a challenge,' Trombitas explains. 'Weight distribution as well as a clean, integrated appearance were important. We designed a custom frame with EM's assistance that integrates all speaker elements as a compact cluster and hangs from the domed ceiling without causing unnecessary stress on the structure.'
The combined coverage of the clusters easily covers the seating area and the ice. Each EM Acoustics MSE-159, a two-way passive, reflex loaded full range loudspeaker, blankets the seating area. The EMS-121X loudspeakers – ideal for applications that require full range performance with low weight – ensure the players on the ice are also covered. The Halo-CS is a reflex subwoofer that provides the low-end impact a sporting venue requires, in a very compact footprint.
Certain of the loudspeakers from the old system were re-purposed to cover standing-room-only areas on the ends of the rink that were not covered previously – another win for the college.
'This project had an extremely tight build schedule,' Zarriello reflects. 'There was no spare time; we were offloading loudspeakers from the airline transport company as they were preparing the ice for practice the next morning. When all was said and done the college and fans were very happy. Not only was the system intelligible, but the clarity was exceptional, and the rink is filled with sound.'
More: www.emacoustics.co.uk