The 2019 Royal Edinburgh Military Tattoo saw one of its greatest technological transformations to date when the vast and complex event trusted its audio control to an audio tracking system. The event used the largest Outboard TiMax TrackerD4 precision stage tracking system yet deployed, controlling a pair of Out Board's TiMax SoundHub-S64 spatial audio processors featuring new HardCore FPGA processing – all supplied by Wigwam Acoustics.
Since 2014, sound designer, Seb Frost, has overseen the execution of audio reinforcement for the event, in which a continuously moving cast of over 1000 military musicians march through Edinburgh Castle's parade ground in increasingly complex configurations.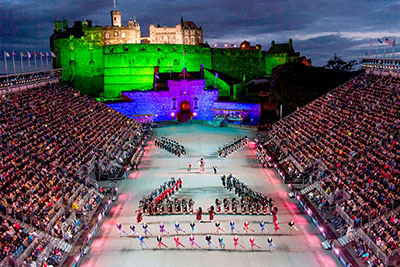 'TiMax TrackerD4 dramatically improved the accuracy and resolution of the loudspeaker system,' Frost reports. 'The advantage was that because everything sounded so natural we could increase the volume, which 100 per cent had the effect of engaging the crowd and giving them – dare I say it – a more immersive experience.'
Along with 60 channels of radio microphone, 48 TiMax Tracker tags were swapped onto performers every four to six minutes during the course of the 100-minute performance. Over 700 tag swaps, from full bands to individual and group performances, demonstrates the level of complicated organisation that lies behind this unique event.
The TTd4 tags drive a 48-channel TiMax2 SoundHub audio spatialisation matrix to continuously maintain localisation and musical timing integrity for the whole audience. TiMax has been used to clarify the audio imaging for the Royal Edinburgh Military Tattoo since 1994. Frost explains, 'TiMax is still the only product on the market that can do what it needs to do for the Tattoo, which is spatially control the reinforcement in a three-sided arena.'
The decision to use tracking on the event was made based on, '…alongside accuracy and cost, the small size of the TiMax TrackerD4 tags and their extraordinarily long battery life.' Frost confirms, 'It was absolutely a worthwhile investment and something we'll roll out elsewhere as soon as possible.'
To ensure the smooth integration of the largest D4 system used to date, Out Board's Robin Whittaker was on hand, providing in Frost's words, 'fantastic support'.
'We were able to send back gigabytes of data and the Tracking team at Out Board analysed it and sent back a new set of filters, so we were able to improve resolution and accuracy in a very short space of time – with such great support,' Frost says.
More: www.outboard.co.uk