AC Entertainment Technologies (AC-ET) has supplied Dynamic Audio Device (DAD) loudspeakers to The Point venue in Eastleigh for its annual programme of outdoor events and other offsite activities.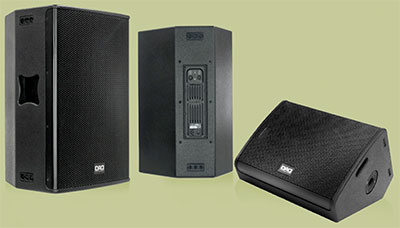 Each year, outdoor pop-up live music, festival, cinema and family events are held in the venue's grounds and nearby public spaces, bringing together the local and creative communities. When Technical Manager Tim Slater was looking to invest in new PA loudspeakers for future outdoor events, he contacted Steve Eaton, Sales Executive in AC-ET's specialist Audio sales division. 'Although I was unfamiliar with DAD, having bought equipment from Steve before, I trust his ears and advice,' he says. 'After hearing them I was hugely impressed with the clarity of sound, which was very good at high pressure levels. For the price point they are such great value. In addition, the high build quality means I have confidence in their long-term use. The cases integrate tightly around the speakers, which provides great protection when they're being moved around and used outside.'
Slater purchased a package comprising DAD's new second-generation Touring Power Series. Models include the Touring12AG2 active loudspeakers and Touring18SA active subwoofers. 'Although Steve challenged my own choices, I have ended up with completely different products which I am much happier with,' he reports 'It just shows that it's worth listening to his advice and keeping an open mind.'
'Steve understands really quickly the scale of our needs and budgets, and gives options. He always helps with technical questions, is patient when we have taken long periods to deliberate, and provides a quick turnaround when we finally make a decision. Working with him and AC-ET is great.'
Hosting British and international contemporary dance, theatre, comedy and film, the venue has been one of Arts Council England's National Portfolio Organisations (recognising its cultural importance to the creative community) since 2015.