Working with Abreu Producciones in Mexico during the late 1980s, Oscar Tovar was monitor engineer for acts including Rocio Durcal, Manuel Mijares, Ana Gabriel, Jesse & Joey, Gloria Trevi, and Paulina Rubio. He then spent 20 years with Audio Concepto – both based in Mexico. And it 2013 he discovered the SSL L500 console…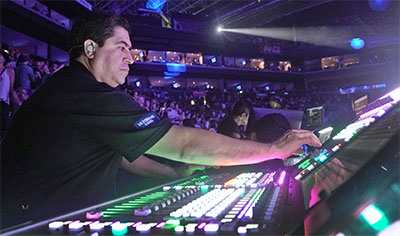 It was when Tovar was touring with Jesse & Joey that he first found out about SSL's Live offering: 'I remember we played the Wiltern Theatre in Los Angeles, and [SSL's] Fernando Guzman invited me to see the console for the first time at the office just around the corner,' he recalls. 'Although it was a beta model, the sound was amazing, and I immediately fell in love with it; it is now the number one mixing console on my rider.'
The '90s Latam Pop Tour is Tovar's current project, and sees him mix seven bands (OV7, JNS, The Sacados, Calo, Kabah, Mercurio, and Magneto) mostly 'in the round' with between five and seven singers per group, most performing simultaneously. Texas-based rental company, First Born Productions, deployed two SSL L500 Plus consoles for the US leg of the tour.
'All I can say is that the dynamic range and clarity in the massive vocal section has never been better,' Tovar says. 'There are 30 vocals performing at the same time, and a full band: drums, bass, guitar, and keyboards – so that isn't easy to do! For that reason, stage communication is one of the most important issues, so having the crew on their own IEM mixes allows us to communicate clearly, and give them a nice reference in terms of what is going on with the musician they are responsible for.'
Tovar is running a total of 88 input channels at monitor position across 43 stereo mixes, and is particularly grateful to have SSL's Path Link at his fingertips.
'Path Link really is my best friend, so I use layers and banks as much as possible to navigate fast and accurately,' Tovar explains. 'What's interesting is that my mixes have genuinely been improving purely due to the sound quality of the SSL console. The fact that I can customise the surface using the Layer Manager is amazing; even during the show I can edit and change my console's surface without any trouble – and I'm running 43 mixes.
'The Path Link and the Layer Manager are unique SSL features that no other manufacturer offers, and on top of all this, the analogue pre in this console is definitively the best in the industry; you just know that you will achieve the mix result you are looking for. Furthermore, the SSL EQ and dynamics are both incredible - you can hear the smallest changes on the settings as soon as you dial anything in, which is not often the case with digital consoles. I'm using a single reverb per singer, and I love using the Enhancer to do my final mix makeup. This console just sounds like no other.'
More: www.solidstatelogic.com