As well as being co-owner of The Kitchen Sink recording studio (with Jono Manson) Tim Schmoyer also operates a project studio where he has recently added an Audient Nero monitor controller to its operation.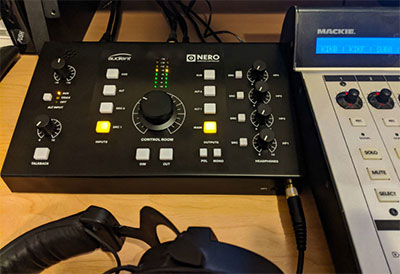 Already au fait with the Audient brand through the classic ASP8024 mixing console that is the heart of the downtown Santa Fe commercial studio, Schmoyer was keen to give Nero a go: 'Once I got it hooked up, I immediately knew this was going to be the one,' he says, citing 'super solid construction, sound clarity and flexibility in input and output functionality' as key features.
'I will bring projects home from the studio from time to time if I need to do editing or comping, or sometimes to just listen on different sets of speakers,' he says, explaining how Nero works for him in his set-up.
He uses it to set the volume for each speaker set independently, matching volume for them as well as assigning a sub to any monitor path he chooses. 'The ability to route different sources to different outputs is a great feature. It is super useful when I have a reference mix on my iPod, and want to quickly A/B my track with the reference. A few simple button clicks to set up the routing and I'm good to go.'
Nero has one dedicated monitor grade headphone amp and three foldback grade headphone amps: 'The number of headphone outs is great,' he reports. 'I have connected the equivalent of a Bose Wave radio to one of the headphone outs which lets me listen to that output instead of burning a CD. Same with a set of desktop computer speakers. If I could only hook that up to my car…'
Years ago, Schmoyer had owned an interface that had an external controller similar to Nero, but it became obsolete as the interface and drivers were no longer supported. 'I love that the Audient is not tied to any vendors' software,' he says.
'The construction is solid. It sits nicely on my desk and does not tip backwards when all my cables are connected,' he adds. 'The angle is great, and the volume control knob is smooth to turn. And it is an Audient, which at this point, I expect to be nothing less than excellent.'
Now in its fourth year of operation, The Kitchen Sink continues to attract local, national and international artists (including co-owner Manson's own record) and owes its success to the hard work and dedication of both.