Its fifth and latest venue, Baky Hospitality's Lexie's fine-dining restaurant is located in the heart of Cairo. Its lavish design and modern Italian cuisine combine to create an all-round sensory experience that includes music and visual art. The music programme is the work of veteran group music director Hans Havenaar (aka The Dutch Touch), whose multi-era blends and penchant for jazz in all its forms counterpoint resident DJ Fabrizio's live sets of upbeat house music.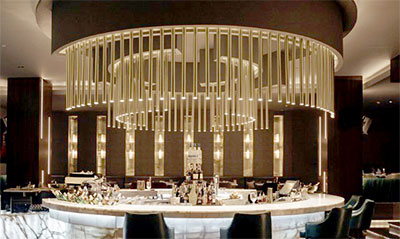 Ensuring high-quality sound reinforcement required investment in a complex audio architecture, with Cairo-based system integrator Audio Technology SAE appointed to manage all facets of Lexie's ambitious A/V installation.
'Baky Hospitality owner, Ayman Baky, is a regular Audio Technology customer, and we have worked on several projects with him before,' explains Mario Abadeer from Audio Technology. 'Lexie's follows a similar formula to its sister venues, Kazoku, Sachi, Sachi by the Sea, and Shinko, with a strong musical element, coupled with an ambient dining experience. To achieve this, we needed to specify a sophisticated, comprehensive and sonically excellent sound system. L-Acoustics meets all these criteria, so we looked no further.'
Whilst Lexie's is essentially one large room, it is divided into four areas that include interior dining and entertainment, as well as an open-air cocktail bar, each of which needs to have the ability to be individually controlled. Additionally, a major design feature is a large plexiglass wall, which would cause reflections if the sound was not directed away from it and also restricted mounting positions.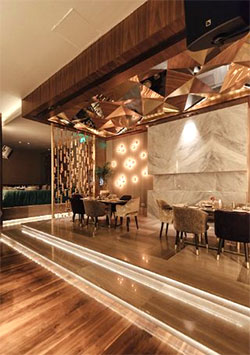 Working alongside L-Acoustics and using Soundvision, the manufacturer's 3D acoustical modelling software, Audio Technology produced a thorough design study of the venue. L-Acoustics X Series was deemed the ideal solution, its short-throw, point source cabinets being capable of delivering even coverage in smaller spaces, with crystal clear sound that is perfect for background ambiance, yet strong enough to reinforce the restaurant's live events.
The final design makes use of six, evenly spaced columns for mounting points, with an X12 and X8 plus an SB15m in the live music area, and two X8 mounted on the remaining four columns, which cover the dining area, which also features two wall mounted X12, and the open-air bar, the two areas being separated by a plexiglass wall.
To optimize coverage and homogeneity, dedicated X-series brackets were used to tilt the speakers with a negative site angle, ensuring that the speakers shoot downward toward the audience. The entire system is powered by four LA4X amplified controllers.
'L-Acoustics X Series was the right fit for this venue, providing aesthetically pleasing products, with the technical complexity to effectively distribute audio throughout the various areas of the venue, from the relaxed dining spots to the bustling cocktail bar,' Abadeer concludes. 'Lexie's wanted to create a real feeling and one that reflects the considerable talents of Hans Havenaar and DJ Fabrizio, so the sound is just as important as the décor and the food in creating that feeling. L-Acoustics has helped them to do this with success.'
More: www.l-acoustics.com