Protones Veranstaltungstechnik has taken the first DiGiCo SD7 Quantum mixing console sold in Germany. The newly appointed DiGiCo rental and installation supplier is an established rental company with many well-known German pop and rock bands on its client list, and also handles servicing and audio refurbishment for with worldwide cruise lines and theatres.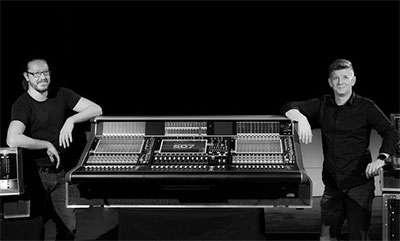 'Working in both rental and installation markets, we employ a lot of DiGiCo consoles and are completely won over by the sound and build quality. It was a logical step to become an official supplier,' explains Protones Head of Audio, Martin Kuehlechner.
The SD7 Quantum will complement Protones' existing fleet of DiGiCo consoles comprising the SD12, S31 and S21, and boost the company's offering in its new role as the main DiGiCo rental supplier in the region.
'The SD7 Quantum offers everything a sound guy could ever aspire to have at their fingertips,' Kuehlechner notes. 'The nodal processing gives so much power and problem-solving solutions, there was no question that this is the desk we wanted to provide for our engineers and clients. We had the first Quantum to ship to Germany, and now everyone wants to work with it, and we're receiving plenty of dry hire requests.'
The console was supplied by German distributor United Brands Germany, with whom Protones will collaborate on future installation projects, as well as regional sales, service and training for the DiGiCo marque. One of its first tasks as the new DiGiCo partner was upgrading the sound system in a cruise ship theatre to a SD12, along with stage boxes and redundant Pro Tools set-up, in collaboration with the cruise ship's sound designer, resulting in improved sound quality, better workflow for the engineers and equipment reliability.
'Protones is a fantastic addition to the DiGiCo network, bringing a wealth of expertise and experience covering the pro audio spectrum,' comments Jens Bubbes Steffan from United Brands. 'We're in daily contact with the Protones team answering questions and fulfilling requests to keep customers satisfied.'
Protones has plans to invest in a SD10, a SD11i and upgrading the Optocore with several Orange Box I/O converters in the near future.
'We are more than happy with our investment,' Kuehlechner concludes. 'Bringing together the installation and live rental markets through DiGiCo demonstrates our wide potential to the customers. Everyone loves the sound, the workflow and the way DiGiCo ticks.'
More: www.digico.biz