Located in Pawtucket, Machines with Magnets recording studio a central part of northeast Rhode Island's regional music and art scene, having opened in 2001 to offer a combination of commercial recording spaces, an art gallery and an intimate live performance space. The studio recently commissioned a 24-channel API 2448 console for its main recording room.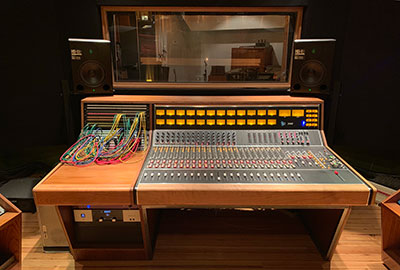 The current iteration of the studio in Pawtucket has been run by Keith Souza (founder) and Seth Manchester since 2005, the same year that the partners made the decision to add a 24-channel API DSM console – provided by Sonic Circus, who also provided the new 2448 – to a growing list of studio gear.
Manchester notes that the DSM's warm analogue sound and outstanding reliability made this year's upgrade to the 2448 an easy decision. 'For the past 15 years, the API DSM system was the cornerstone of the sound of the records we make here at Machines with Magnets, he says. 'When the 2448 was first announced, Keith and I instantly knew we had to figure out how to get one. It was exactly what we had been wanting from API for years – an inline, modular, mid-sized and affordable console. The inline topology, direct outs, bus and auxiliary options have opened up a world of flexibility that instantly made sessions significantly more efficient and productive.
'For example, the Alt Line In allows us to have our 2-inch machine normalled to the console in addition to our digital multitrack, which means we can quickly and easily bounce between tape and digital without patching or swapping ELCOs – a true workflow game changer. The global 0dB switch for the small faders is super helpful for maintaining the hybrid workflow we got used to with the DSM when necessarily, but lately we've had fun reaching for the faders whenever possible. We work on a wide variety of projects from noise rock to pop to modern composition and the 2448 fits the specific needs of each project whether we're aggressive with each channel or hitting the program bus more conservatively.
'Finally, the stellar reputation of API's tech support made the purchase a no brainer – we couldn't be happier with our move to the 2448.'
More: www.APIaudio.com