Specialising in music production for film, television and advertisements, Pressure Cooker Studios recently relocated into purpose-built studio facility in the centre of South Africa's Cape Town, designed by studio designer Martin Pilchner of Pilchner Schoustal International. Genelec monitoring is at the heart of this new facility, with local distributor TruFi supplying monitors for all of the studio spaces.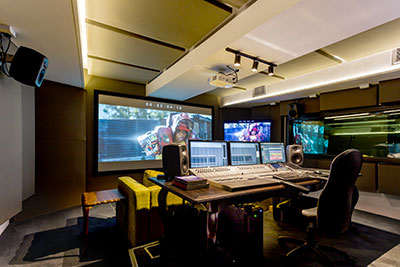 With its roots in a house basement ten years ago, the studio's new facility features two main control rooms sandwiching a 7.1 post theatre with adjacent ADR booth, five writing rooms, an independent isolation booth, reception, lounge and common spaces. 'We wanted to make our space as comfortable, but also as technologically advanced as possible – we spend so much time here, so it definitely had to feel lived in, making it a homely but premium space,' says, co-founder and CEO, James Matthes.
Helping the Pressure Cooker team achieve this feat was Genelec's GLM software. 'The GLM system is fantastic in that it assists with all the relevant calibration of any one of the monitors within the array in terms of EQ and phase alignment,' notes Pressure Cooker Final Mix Engineer, Neil Leachman. 'After the system is aligned and equalised I spent a small amount of time just setting up levels for the individual outputs to align properly to the recommended levels for cinema monitoring for surround and R128 compliance. But the GLM system is invaluable in the set-up.'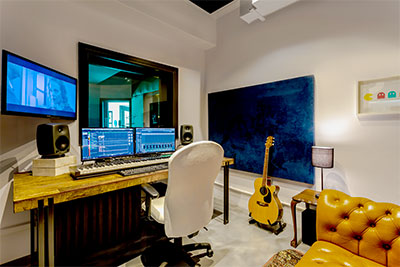 Pressure Cooker has been using Genelec stereo and surround sound monitoring systems since the company was founded, and this trend continues in the new facility. 'Every room in the facility has Genelec,' Matthes says. 'From buying my first pair over nine years ago, I have never looked back – each monitor is fantastic. The sound produced is so clean, natural and unadulterated – nothing colours it, and I just love that.'
Each room in the new facility uses Genelec monitors in one way or another; Matthes has a pair of 8040 close-fields in his writing room, there are three 1238A three-ways fulfilling the LCR role behind the screen in the 7.1 theatre, with two 7380A 15-inch subwoofers and 8040s as surrounds - while the smaller rooms all have 8030 nearfields. 'We chose a uniform approach with Genelec because we wanted to be able to move from room to room and feel comfortable from the moment we hit play.' Matthes says.
'For example, if I go from a writing session to the composition suite, or start doing a mix with a client in the theatre – my ears aren't going to trick me. I find with Genelec, you don't need any other reference monitor at any point, since they just naturally translate very well.'
The first true test for Pressure Cooker's new facility was the film This Is Not A Burial, It Is A Resurrection that was premiered at this year's Venice Film Festival. 'This was the first film we mixed using our Genelec system and particularly for the international market, it converted amazingly,' says Matthes. 'The film's producer told us how clear and brilliant the sound was, which makes me very confident in the set-up we have, and confirms that our decision to choose Genelec for the whole facility was the right one.'