Located in Kingston, Jamaica, Main Event Entertainment Group (MEEG) technical services department recently acquired a massive Martin Audio MLA/MLX multicellular line array system. This acquisition consolidates the Main Event brand as Jamaica's premier and most technologically advanced production company and a leader in the wider Caribbean.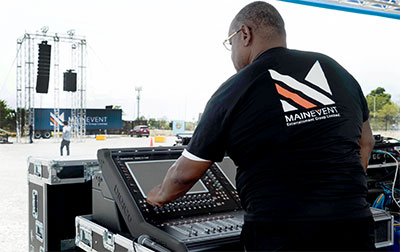 'Main Event is a full-blown experiential marketing company that has grown organically,' says Chief Executive Officer, Solomon Sharpe. 'The company operates as small internal business units, allowing us to deliver a holistic brand experience to our clients from the root to the fruit. We work with numerous corporate giants in Jamaica and have supported major campaigns and activations from above-the-line advertising to below-the-line marketing strategies.,Over its 15-year history MEEG has grown steadily and consistently, transforming the event production/event management and client experience creation landscape in Jamaica. 'Over the years we have produced everything from major festivals to executing multi-level engagements for the MICE (Meetings, Incentives, Conventions, Events) market. Jamaica is positioned as a very great market for those kinds of destination events,' Sharpe adds.
The company's Martin Audio purchase includes 28 MLA enclosures and four MLD (Downfill) enclosures along with 16 MLX subwoofers, and puts MEEG at the pinnacle of the audio production market in Jamaica.
'Our investment in Martin Audio fits us perfectly at this time, especially in terms of outperforming rival companies,' Sharpe elaborates. 'We had another large-scale audio system but we looked at the scope for growth in the marketplace in terms of what was coming up on the riders for visiting international artists and increased critical requirements for local corporate events. We knew that we had to go for the very best audio quality, event boundary noise control, cutting edge technology and brand name recognition to the international marketplace, it was with all this in consideration, we made the determination to go with the Martin Audio MLA/MLX as our premium system.
'We are the number one brand in our market, so we wanted to keep our choice of PA consistent with that. We are proud to say there's no other system of this calibre in Jamaica. We're building a great touring rig, not just for Jamaica but for other opportunities in the Caribbean. One of the main uses for Martin Audio system will be for our major corporate concert events and festivals.
'We are a visionary company, and are always looking for opportunities for growth. Our clients can do any kind of event they dream of, knowing we will deliver "a phenomenal experience", bringing them the best of the world. We're the champions of Jamaica – now, with this Martin Audio system, we can dominate any venue in the Caribbean.'
More: www.martin-audio.com