Now in its fourth season, Sing! China follows the international franchise's established format, with blind auditions in front of a panel of four mentors, leading to a series of public votes with the winner receiving a record contract. Much of its impact comes from large, engaged audiences for its pre-recorded studio shows and the epic stadium-based live finals, so the influence and atmosphere generated by the live aspects of both are vital to its success. The sound, in particular, is key.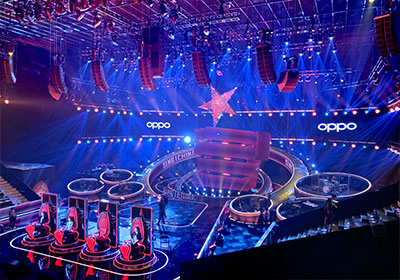 A combination of L-Acoustics L-ISA technology and DiGiCo consoles, supplied by L-Acoustics distributor Rightway Audio Consultants, have been used for the studio shows and live finals since the first season of The Voice of China in 2012, with the systems evolving in line with emerging technologies and improvements in power and quality. A drive for constant innovation and offering an exceptional audio experience led to the employment of L-ISA Hyperreal Sound technology, with the PA design deploying five central hangs of seven Kara, with two hangs of eight Kara positioned far left and right.
According to Rightway engineers WenHao Li along with LangBin Zhou and Haozhi Zhao who set up the show, introducing L-ISA was a big step forward for the production. 'It's the first time that L-ISA has been used for a talent show in China,' they explain. 'It brought a new listening experience to the audience and the mentors, and the contestants definitely benefitted from the incredible detail that the system brings to any space.'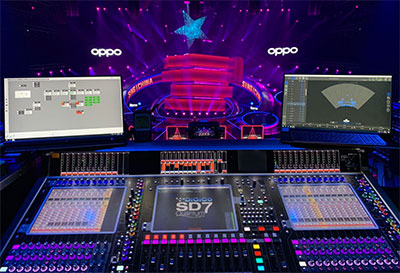 'It sounded like we were experiencing a big-budget Hollywood production,' says Jin Lei, the show's director. 'The sound was amazing. After the first recording I asked mentors how they felt, and the feedback was outstanding. They said it felt like they were surrounded by the music, and the vocal itself stood out clearly, but not harshly.'
This year, the ambitious Sing! China final was held at Beijing's 90,000 capacity national Stadium, known as The Bird's Nest. Rightway designed the PA system for the finals using L-Acoustics Soundvision acoustic modelling software to ensure optimum coverage. The main hangs were K1 and SB28 subs with Kara fill and X15 HiQ used for stage monitors. The front of house console was a DiGiCo SD7 Quantum, working with SD9 and SD5 consoles on monitors. Audio signal transport was via both digital and analogue.
'When you design a sound system for a venue this size, everything is a challenge!' note the engineers. 'The team needs to set-up the system in a fairly short time and there are many logistical issues to solve. We needed PA elements that are built to withstand anything that the unpredictable Beijing weather could throw at us,' they conclude. 'And of course, we needed a long throw for the massive space we were in, as well as the best sound quality available. With the combination of L-Acoustics and DiGiCo, we certainly got that.'
See also: