Russia's most popular TV channel, Channel One, operates form at the gigantic Television Technical Center in Moscow's Ostankino district. Here, two control rooms dedicated to its 24/7 live news service have seen the installation of full-DSP-option Lawo mc²96 Grand Production Consoles, two 12-fader and fully-featured Lawo sapphire mixing consoles (for backup), along with Nova 73 DSP router cores and Dallis stageboxes in an ST2022-7 redundant configuration for both the consoles.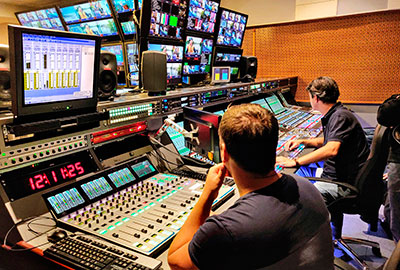 The new Lawo system handles the audio part of Channel One's news show Time, Russia's most-watched news programme, which is manned day and night and airs live content throughout the day. Additional applications for the massively specified 72-channel/800 DSP-channel mc²96 consoles include live coverage of high-profile events.
'Pristine audio quality was clearly the most important consideration for selecting Lawo equipment,' explains Information Programs department Main Sound Director, Ravil Haerdinov. 'But we also needed raw processing power in an intuitive, user-friendly format.'
With the mc²96, Lawo's mc² platform provides audio production tool with a unique feature set for a variety of applications (broadcast, theatre, recording). The mc²96 provides optimised performance within IP video production environments with native SMPTE 2110 support. Its revolutionary LiveView feature enables thumbnail previews of video streams directly in the fader labelling displays.
Channel One's 24/7 live operation demands maximum availability, zero failure and highly customisable, user-friendly operation. A feature that the broadcaster deemed especially important is the six assignable free controls per channel strip that allow operators to use the console in a near-analogue fashion. The importance of the ability to protect (lock) all required signals cannot be overstated in the fast-paced and competitive environment of 24-hour news delivery and high-profile special events. This again spoke in the mc²96's favour.
Given the scope of the station's operations, command triggers and several GPI/O cards were specified for convenient control of all lamps, Group Mutes and other functions.
Snapshots, Channel Isolation, the console's layout and the ability to store backups rank among the mc²96's additional strengths. The presence of seven Lawo V__pro8 video processing units with audio embedding/de-embedding means that Channel One is able to fully leverage the convenience of the mc²96's LiveView functionality of video thumbnails for intuitive channel identification by operators even in hectic situations. Likewise, the console's Fader Notch function was programmed to click at 0dB, allowing audio engineers to take advantage of the Fader Start function and intuitively find the 0dB setting without looking at the faders.
Colour coding of encoders and high-res colour TFTs further contribute to the mc²96's intuitive operation. Users can create, save and recall multiple personalized free control layouts directly in their own bay.
Although installed as a backup in the event that an mc²96 becomes unavailable, two 12-fader sapphire consoles have also been installed at Channel One to ensure 24/7 availability of its news programme. This move again demonstrates the versatility of Lawo's radio line-up, which is equally at home in TV operations and high-profile installations (parliaments, arenas, etc). Other TV stations and broadcast facilities use Lawo's sapphire and ruby surfaces as flexible remote controls for audio nodes, which is possible thanks to their open-standard IP implementation.
The system's processing power is provided by Lawo's VisTool software, which can be customized to customer specifications and offers fully-featured audio processing. VisTool is Lawo's virtual radio studio environment that provides operators single-point access to all the tools they use daily. VisTool's rich graphical GUI is instantly understandable, because it works in the same way as tablets and touchscreens.
Thanks to the Dallis interfaces employed for ingesting and playing out audio signals, the audio quality of this system is on the same exceptional level as Channel One's mc²96-based audio systems.
After the commissioning, Lawo provided training for the audio engineers and sound directors, with a special session given by Felix Krückels, one of the A1s at the soccer world cup 2018 (which was partly produced in immersive audio), sharing tips and tricks on how to the mc²96 in an expeditious and highly effective way. The first MCR went on-air in September 2019 and second has been operational since October 2019.
More: www.lawo.com