As well as being Chief Evangelist of online graphic design tool Canva, Guy Kawasaki is a brand ambassador for Mercedes-Benz, an executive fellow of the Haas School of Business at UC Berkeley and the author of Wise Guy, The Art of the Start 2.0, The Art of Social Media, Enchantment, and 11 other books.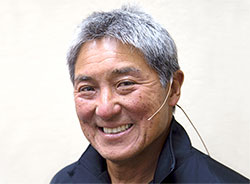 Kawasaki is very well versed in public speaking – a role in which he favours the Countryman Associates E6 Earset microphone.
'I carry the E6 with me, however, I don't have to use my Countryman mics more than a few times a year because many venues already have Countrymans,' he says. 'I carry my Countryman knowing that I won't have to use it because of the Countryman Effect: showing up with your own Countryman impresses the A/V crew. I am convinced this gives me cred with the crew and increases the likelihood of quality results.'
'I started podcasting today – it's called Remarkable People,' he adds. 'I use the E6 on my side of the interview and a B3 Omnidirectional Lavalier for my guest. I dislike the bulk of handheld mics and their cables and stands. Plus, making an interviewee hold a mic cramps the eloquence of responses because many people like to use their hands to express themselves. Spontaneity and naturalness are keys to an effective podcast.
'I only care about the quality of sound and comfort when I'm speaking,' he continues. 'In that regard, Countryman's audio performance is exceptional – and there are never any issues getting a suitable amount of gain. Equally important, the fit is terrific, so the mic is never distracting, which enables me to focus on what's important as opposed to worrying about the microphone.
'Sounding good is a serious business for me,' he adds. 'My Countrymans are key components of a bag of tricks that help me rise above the noise.'
More: www.countryman.com