Elvia-Pro has taken on distribution of the German fibre network specialists BroaMan portfolio in the Czech Republic.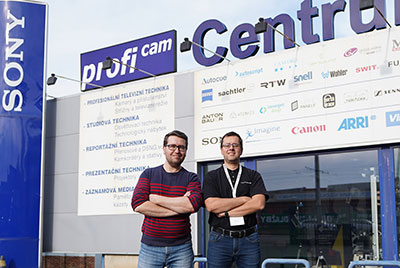 Established in 1993, the Prague-based company specialises in management, engineering and project work within the broadcast sector, and manufactures and installs equipment for OB and DSNG trucks, specialising in main broadcast organisations such as Czech TV, TV Prima, TV Barrandov and production houses.
The appointment follows a request from private commercial station, TV Nova. 'They came to us with a request for BroaMan devices,' says Elvia-Pro's Sales Product Specialist, Tomáš Kocáb. 'Aside from TV Nova, we had also received further BroaMan inquiries from TV Prima, while a film school requested a Repeat48.'
BroaMan Technical Sales Manager Maciek Janiszewski made a professional presentation at TV Nova, leading to the new distribution deal. The company will now embark on an aggressive marketing campaign. 'We have shown our Mux22 demo units to all the main broadcasters, and we also have Repeat48 in our professional ProfiCam Centrum showroom in Prague,' Kocáb says. 'We also present all BroaMan products on our professional web page (e-shop). The opportunity to develop an elegant and efficient solution for multi-signal transportation is exactly the reason for taking this brand on.'
'There is no better reference than the customer's recommendation, and it was the engineers from TV Nova themselves who said that they would be most willing to cooperate with Elvia-Pro in the Czech Republic,' says BroaMan Sales Distribution Manager, Dawid Somló. 'After the first projects developed together with Elvia-Pro I had the same impression. I can definitely vouch for their professionalism and knowledge of the market.
'However, a lot of hard work awaits us. I expect a strong and aggressive commercial policy from the team, so that the BroaMan brand is a natural choice in the field of video and related signal fibre transmission in the Czech broadcasting market.'
More: www.elviapro.cz
More: www.broaman.com