RCF spa has appointed newly-created RCF Latam as its distributor for Central America, Colombia and the Caribbean. The company has strong roots in the professional audio industry, boasting more than 20 years' experience in its staff. 'Our company is fully committed to the distribution and positioning of RCF as a leading brand within the designated markets,' says RCF Latam Director, Jose M Gonzalez. 'The owners of RCF Latam have successfully distributed the RCF brand for several years, and their aim is to develop the brand in the weakest markets and support its presence generally in Latin America.'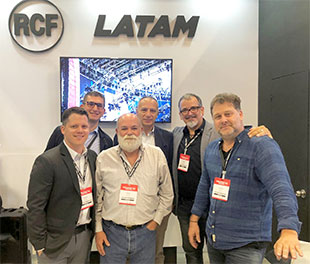 This is endorsed by RCF Export Sales Manager, Luca Agazzi: 'We wanted a new company fully focused on RCF, that comprised experienced audio industry professionals,' he says.
The enduring relationship with RCF Latam's Frank Peruyera (Tropical Music and All Music) and Jannios Jiminez (Italy's Art Music Group) is behind the new venture, with Gonzalez also having been in the business for many years representing both RCF (All Music) and other premium audio brands.
'This move makes the business neater and more systematic,' Agazzi says. 'Colombia has always been influenced by trade coming from the US, so gathering the business in one company will ensure improved control and stability in the area.'
The new company marked its debut at InfoComm Colombia in Bogotá: 'We were welcomed with great enthusiasm by RCF's customers, as they had been waiting for a change in the brand's distribution in Colombia,' Gonzalez reports. 'Customers are now showing considerable interest in the new lines that have been developed.' These include, in particular, the HDL, HD and NX series as well as the transducers.
Although RCF Latam's main office is located in Miami, collaboration with new commercial partners in Colombia will now ensure full availability of inventory.
More: www.rcf.it