The eighth Electro Magnetic open-air festival recently took place in Germany over two nights at the UNESCO World Heritage Völklinger Ironworks – a large industrial compound, dating from the end of the 19th century. Almost 60 DJs and live acts performed a wide variety of electronic music on different floors of the unique and singularly appropriate location, including house, techno, trance and minimal electro.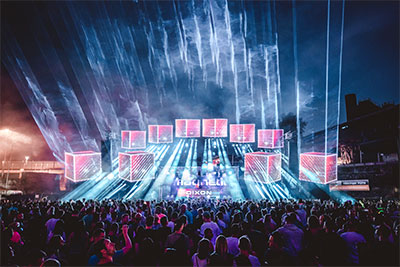 RCF audio-systems were used on all floors. German event company Triacs GmbH was responsible for the technical implementation of the main floor.
This year was the event's first visit to the Völklinger Ironworks. The combination of sound, light and video installations also offered access to areas that are otherwise closed to visitors. More than 16,000 people gathered and danced to Carl Cox, Boys Noize and Amelie Lens, making the 2019 edition one of the largest electro events in Germany.
Triacs GmbH was responsible for the main floor and fielded an RCF HDL 50-A system comprising two hangs of ten HDL 50-A Line Array Module with 16 Sub 9007 Sub Arc Cardioid boxes as main PA. Additionally, eight HDL 30-A elements were used as close fill, with four TT 1-A speakers covered the VIP zone. TT 052-A modules were used alongside IEMs for monitoring in the control rooms (light, laser, video).
RCF systems used on the event's other floors included 14 HDL 10-A and 12 8004-AS as PA with further HDL 10-A 8004-AS for delays on the Craftsman Alley stage; 18 HDL 6-A, four 8004-AS and two 8006-AS on the Scrap Track stage; and four HDL 10-A and four 8004-AS on the Inclined Elevator stage.
More: www.rcf.it