DPA Microphones' recently launched 4097 Core Supercardioid Choir Microphone was the mic of choice for audio rental company Mubari at Kuala Lumpur's Hari Penguatkuasa DBKL – a parade held in conjunction with the Golden Jubilee Celebration of Enforcement Day – when a choir of 12 men and women gathered in Independence Square to mark the 50th anniversary of the Department of Enforcement, Kuala Lumpur City Hall. The event culminated in a live performance by the DBKL City Hall Choir, in front of an audience of approximately 2,000 people.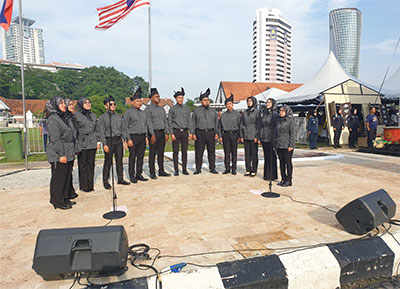 'The 4097 microphone is awesome and very easy to work with,' says Ajun Mubari, head of Mubari. 'We used one pair to cover the choir group and positioned them on either side of the choir who were standing in a semi-circle. The concert generated very high sound pressure levels – in excess of 90dB – but thanks to the 4097's high isolation, the sound coming from the stage monitors (which were placed in front of the choir and behind the microphones) did not affect the available gain during the performance. This was a huge advantage as it meant we could capture the true sound of the choir without picking up any other sound.'
'DPA's new 4097 Core Choir Microphones use a variant of the highly regarded 4099 Core capsule that is widely accepted by engineers in the live performance sector because it delivers exceptional sound quality and reliability,' MD of DPA Malaysian distributor AV United, Mr Chin, adds. 'The capsule used in the 4097 Core Microphone has been specifically designed to capture dynamic choir sound and it is ideally suited to indoor and outdoor use.'
The 4097 Core Choir Microphone is available in both wireless or wired configurations. The inclusion of Core by DPA amplifier technology ensures that a clear sound is achieved at all levels as it lowers the distortion and expands the dynamic range. Furthermore, the 4097 includes three shockmounts so that any rumble caused by movement on the stage is effectively damped.
The anniversary celebrations for Enforcement Day also feature other performances, some miked using six DPA 2011C Twin Diaphragm Cardioid Microphones, which were again chosen for sound quality and reliability.
More: www.dpamicrophones.com