With its 100,000-seat capacity, the new RCF Arena is now the largest outdoor arena in Italy.
'RCF was born in 1949 in Reggio Emilia. From here we brought the excellence of Italian sound throughout the globe and today we are among the major players in the market', says RCF Group CEO, Arturo Vicari. 'Giving our name to RCF Arena is a source of pride for us, but also a mission and a commitment. We have a strong bond with this region and we intend to treat it in the best possible way. With this wonderful project, we will bring our innovation and technology to our back yard, in Reggio Emilia.' It is a prestigious signature that fully reveals RCF's devotion and commitment in the continuous search for sound quality in this new Music Valley.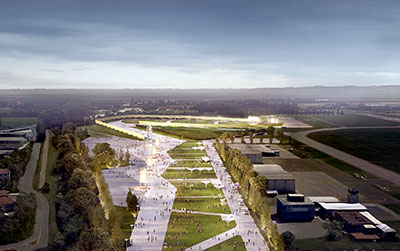 The venue will be ready and operational by September 2020 with an opening concert by Ligabue. Ifeatures a flexible capacity of 10,000 to 100,000 people, and a raked audience floor to ensure optimal visibility and acoustics. The stage is placed in the lower part of the arena in a central position, and with a maximum viewing angle of 110°.
It is is equipped with the most modern technologies for the best concert performance. It will also include a permanently installed RCF TT+ array line system for live events, with ten additional distributed systems (delays) in fixed steel structures, also used as supports for video/lighting equipment. At the same time, the orientation of the system will be optimised to ensure the lowest noise impact towards the surrounding residential areas of the city.
'RCF audio systems have amplified the music of national and international artists in every corner of the globe, and in some wonderful arenas,' continues Vicari. 'The RCF sound is based on the expertise and reliability of a company made up of people and passion. We have just turned 70 and we still want to play.'
In 2015 Ligabue established a European record when a paying audience of 150,000 – the most for a single artist – delivered with an RCF audio system. Thee return of major international acts is also anticipated, following the 146,000 for U2. The RCF Arena is a place that will have no equal in Italy in terms of capacity, communication routes and accommodation services.
More: www. rcf.it