Funktion-One founder Tony Andrews has been recognised by Wrexham Glyndŵr University for his decades of work at the forefront of professional audio. In a ceremony that awarded graduates in Art and Design, Media and Communications Technology, Humanities and Computing at Wrexham Glyndŵr University, Andrews received an Honorary Fellowship.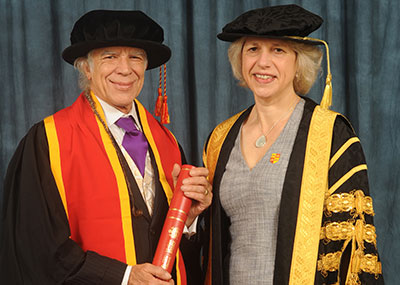 In his acceptance speech, Andrews said: 'I consider myself fortunate that I have been able to make a living pursuing what intrigues and stimulates me. This is a driving force that, much to my amazement, has persisted for more than 50 years now.
The University confers Honorary Fellowships upon people in recognition of their significant commitment to the University and the wider community and is the highest honour that the University can bestow.
'Among the qualities essential for progress and achievement are application and perseverance, which today's graduating students have amply demonstrated by successfully completing their studies,' Andrews said. 'Keep in mind that there is great soul expression in going after the things you are passionate about. Most of the interesting stuff in life happens at frontiers and boundaries, and the status quo is merely a temporary condition on the way to truth.'
'Our Honorary Fellowships are for people who have made a significant difference in a particular field, and Tony's work in sound system design and development very much matches that description,' says Faculty of Arts, Science & Technology Associate Dean for Student Engagement, Colin Heron.' Fellows are also honoured for their support of the work that Wrexham Glyndwr University does, and throughout the time we have been associated with Tony he has been a source of advice and guidance for our students – advice that draws upon the decades of experience he has had at the cutting edge of his industry.
'Also important to the University is Tony's approach to empirical research in the development of his technology. Rather than following current trends, his approach is to question everything, including his own past products, leading to new innovation and world class products. This is inspirational to our students, who through their own studies are being encouraged to adopt the same approach.
'It was a delight to be able to welcome Tony back to the University, and to see him bestowed with an Honorary Fellowship – an award which he richly deserves,' he adds.
More: www.funktion-one.com