The International Christian Fellowship Munich (ICF) recently upgraded its audio system with the installation of an Allen & Heath dLive mixing system for its weekly services and other events.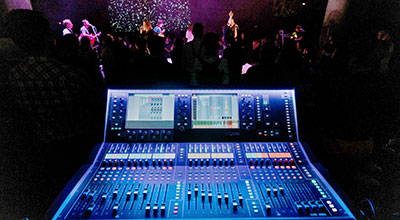 'When we decided on a dLive a year ago, it was very important to us to have a straightforward, well-structured system,' explains ICF Head of Audio Technology, Marc Deisen, who has been working at the church for five years and oversees the dLive system. 'Many of our technicians are volunteers and have very little trouble working with dLive, especially as we already had an iLive console in use. We quickly learned to appreciate the I/O patching matrix, which is very clear and easy to use for everyone.'
ICF Munich is a non-denominational free church that, in addition to its regular Sunday services, hosts other live events with up to 800 participants. Due to size of these services and events, a large number of microphones and extensive I/O is needed for the speakers and live performers. One of the main considerations was an audio system that could meet the demands of a professional concert.
ICF's new audio system comprises a dLive S5000 paired with a DM48 MixRack and two DX168 expanders for additional I/O. A Dante card is utilised for multitrack recording, connection to wireless mic receivers and the PA.
Aside from dLive's easy and intuitive workflow, a large part of Deisen's decision to use dLive came down to its processing features: 'Now we have enough processing power for more than 50 channels plus effects, all in a modern and reliable system. The Dyn8's multiband compressor is unbeatable for all forms of signal processing and the Deep plug-ins from the valve preamp emulation through the 16T to the Opto compressor, surprise us again and again with their warm sound.
'A special feature of the ICF building is the stage concept with a 360° central platform,' he adds. 'Our goal, of course, is to keep the cable routes short and to have as few cables as possible leading through the audience to the desk, so the ability to expand with the DX stageboxes is vital, as well as convenient.'
More: www.allen-heath.com