Her sets on 2018 tours with HAIM and Mumford & Sons won American singer-songwriter Maggie Rogers a sufficiently strong following to headline her own, culminating with a latest and largest tour leg for which Clair Global has been supplying a pair of DiGiCo SD10 mixing consoles.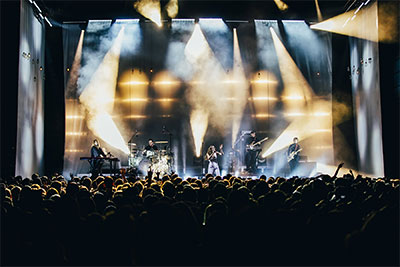 Production Manager and FOH Engineer Bob Boyle has worked with Rogers since March 2017 – shortly after she first started touring – with monitor engineer Mike Sassano coming onboard at the beginning of this. 'Our first show of 2019 was at The Fonda in LA, and most of venues in the early months were in the 1,000-capacity range, with a few exceptions along the way,' Boyle recalls. 'But Maggie has steadily amassed a lot of fans since then, and the venues we've been hitting on our September-October leg have been between 2,500 and 8,500, so things have grown quite quickly.'
To accommodate the tour's expanding production needs, Boyle and Sassano each moved to DiGiCo SD10 consoles, sharing a single SD-Rack, for stops at Nashville's Ryman Auditorium, Berkley's Greek Theatre and a couple of nights at NYC's Radio City Music Hall.
Boyle notes that he greatly appreciates the SD10's flexible layout and intuitive operation. 'One of my favourite things about the workflow of the desk overall is the ability to lay the show out exactly how I need it,' he says. 'Being able to place faders anywhere I like has opened up a workflow for me that is easier and more intuitive for operating the show than any other desk on the market. And I enjoy having three fader banks. While we don't have a crazy channel count, it's nice to be able to configure the desk in a way where there is minimal digging around for channels during the show.'
Macros have also helped make his life easier: 'Beyond normal stuff, like a Save button and Tap Tempo, I have Macros that locate control group faders back to zero when I start soundcheck, buttons that mute and unmute talkbacks to my shout speaker, change reverb/delay sends for different songs, and things like that. I don't use them on this show quite as much now that it's set up, but I've stolen tricks from others for using Macros to set up show files and they're an awesome time saver. That really came in handy for getting some of the support bands' files together on this run.'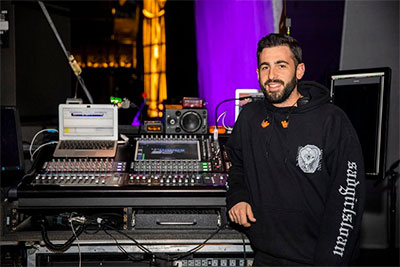 The SD10s connected via an Optocore loop allow Boyle and the tour's monitor engineer to 'conquer challenges all the time', in particular, the ability to pass signal between the desks using the Console Send/Receive routing.
In monitor world, Sassano notes that he is supplying the five musicians and additional crew with eight stereo IEM mixes, plus mixes for mono sidef ill sub and stereo side fill tops.
'We're essentially running 54 channels into the SD-Rack, including all talkbacks and audience mics – there are 18 live mics, one acoustic guitar, and the rest are all DI inputs or talkbacks,' he reveals, going on to share his affinity for DiGiCo's onboard processing: 'There are so many onboard options for processing available per channel that I don't ever find myself wishing I had something else. I use the stereo spread for backing tracks, audience mics, Kempers, and sometimes keys/synths to push them out to the sides and make room for the centre elements, plus the tube warmth on bass guitar and sub synths to add harmonics and make them more perceivable for the ears.
'The dynamic EQ is great for keeping any one frequency band from building up too much and giving a more balanced overall tonality to the mixes. I also use it for de-essing vocals on the top end and managing proximity effect on the low-mids, making drum transients – and sometimes piano transients – pop more, keeping guitars bright, but not harsh. The multiband compressor can be a lifesaver, too, depending on the vocalist, which is the processor I find myself reaching for the most. I've never run into a mix issue that I couldn't treat with the available channel processing and totally fix it. And I enjoy being able to have dynamics before EQ and vice-versa; most desks don't provide that option or it's hard to access. With its first-rate processing, sensible UI, generous matrix and handy features like spill sets, I love mixing on the DiGiCo SD10.'
With Clair Global supplying only the control packages and a tech for the tour, Rogers is performing on house systems or locally supplied PA for each stop, so Boyle reports that he's happy with the fidelity that the SD10 platform has been able to give to both the live audiences and recording outputs. 'We're running the desk at 48k for multitracking reasons,' the FOH engineer says, adding that he's using a UB Madi, while Sassano has a DiGiGrid MGB on his end. 'I've been really happy with the quality of sound I've gotten out of the desk, given that we are not traveling with PA. It's nice to know that I can count on what's coming out of the desk to be accurate and reliable.'
Sassano has a smaller 'audience' that he needs to sonically please, but he notes that the monitor SD10 console is more than satisfying his mix recipients as well. 'Maggie and the band are really happy with their IEM mixes,' he adds. 'We go multiple shows without anyone asking for changes, even through soundchecks. Maggie and our bass player, Brian, specifically have even expressed that they've never had so much fun onstage being able to hear everything so clearly.'