Touring theatre productions in rural areas of north Norway can be challenging, especially with limited local facilities and equipment that has to cope with fast-changing extremes of temperature. But an Alcons Audio LR7 pro-ribbon system is proving equal to every challenge for the country's northernmost regional theatre. Established in 1971 and serving counties of Troms and Finnmark, Hålogaland Teater was the first regional theatre in Norway. It occupies a modern building at Teaterplassen in Tromsø, built in 2005, which features two modern theatre stages, a cafè stage and a rehearsal stage.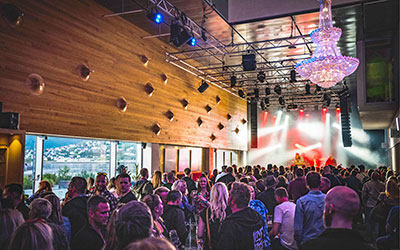 It tours productions year-round to 15 venues located throughout Troms and Finnmark, often in local dialects. The varied programme includes contemporary and classic drama, musicals, children's theatre and more. These shows need an audio system, which can be easily transported and is very roadworthy, but delivers high quality audio for any kind of production in every venue where Hålogaland Teater tours.
Recently the theatre needed to replace its touring system, so Chief Sound Engineer Jim-Oddvar Hansen put together a technical specification based on all the needs, wants and challenges that it had to satisfy. He thoroughly researched every possible solution and system manufacturer and, after putting some systems head-to-head, an Alcons Audio pro-ribbon solution was the winner.
Supplied by Alcons' Norwegian distributor and Pro-Ribbon Partner Lydproduksjon Tromsø AS, Oddvar Hansen chose an Alcons LR7 pro-ribbon micro line array system, comprising 12 LR7 modules, four LR7B micro line array bass modules and four BF181 mkII compact subwoofers, powered and controlled by two Sentinel10 amplified loudspeaker controllers.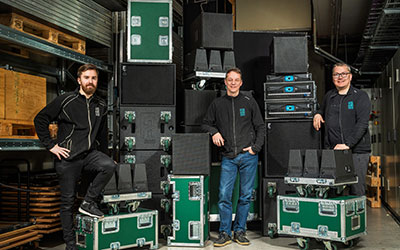 The LR7 features ultra-compact, lightweight enclosures that can be flown, pole-mounted or ground stacked, which deliver intelligibility, throw and projection control for small to medium-sized venues. Delivering maximum gain before feedback, even in small venues, it features consistent, horizontal dispersion with seamless coverage.
'First and foremost, we chose the Alcons LR7 system for touring because of its outstanding sound quality and the strong emphasis on the clarity of speech and low distortion. In addition, the low weight, great rigging and transport options were essential when we have limited space in the tour bus and equipment truck. Together they make it a great solution,' Oddvar Hansen says.
'Alcons pro-ribbon systems have proved that they work fantastically and are able to withstand the extreme weather conditions in northern Norway. Even when loading from -20ºC and playing an hour later in +20ºC, we've never had a problem with the system.'
'We congratulate Hålogaland Theatre for their investment in the LR7 system and for their trust in both Alcons Audio and us,' says Lydproduksjon Tromsø sales installation head Eirik Haua. 'We know that the system will deliver a great long-term return on their investment and that audiences are noticing a real improvement in the sound.'
More: www.alconsaudio.com