Duncan Bell is to leave the Autograph Group after 35 years.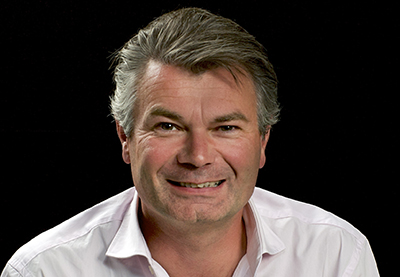 Bell joined the company from school aged 18, and worked his way up from coiling microphone cables to the position of Group Financial Director, running the financial fortunes of a group of companies that have a combined annual turnover of over £10m.
Bell established himself during the 1980s and 1990s as a respected Production Sound Engineer working on many high-profile theatre productions in the UK and abroad. His slavish attention to engineering and economic detail was what set him apart and marked him out for his future role within the companies. 'A month's work experience in 1984 has led to a 35-year journey as part of an incredible company and family,' he reflects. 'But I have decided that the time is right to find a new challenge for the next chapter of my life. Whatever that turns out to be, it will be defined in no small way by the experience gained as part of Autograph.
'Looking back on it,' he adds, 'having industry pioneers such as Andrew Bruce, Julian Beech, Jonathan Deans, Bobby Aitken, Tony Robinson and Terry Jardine as your collective mentors, teachers and friends must surely be the Holy Grail… and that was just within the company. It will be strange to move on, but I know that Autograph is in good hands and will continue to flourish for years to come.'
The departure of Autograph's previous financial and business director Julian Beech, in 1999 due to ill-health, led to Bell's promotion to Group Financial Director in 2000. Partnered by MD Terry Jardine, they oversaw the running and development of the Autograph Group until last year, when Jardine became Chairman enabling Scott Arnold's appointment as MD.
Bell worked especially closely with radio microphone manufacturers, primarily Sennheiser and Shure, bringing Autograph's theatre experience to bear on the development of their modern radio systems. He also represented the theatre and the wider audio fraternity on the BEIRG committee, a group formed to negotiate and liaise with Ofcom due to the enforced spectrum changes over the past ten years.
His considerable experience in business and theatre installations expertly guided and uplifted Autograph Sales' profile over the past ten years during the transition from distributor to dealer and installation specialists.
'I have known and worked with Duncan for almost 35 years, and during that time trusted him with increasing levels of responsibility in every aspect of our business,' says Autograph Group owner, Andrew Bruce. 'He has repaid that trust many times over and, while I'm really sorry to see him move on, I know that his future and ours will never be very far apart.'
Bell will leave the Autograph companies in the spring of 2020.
More: www.autographsales.co.uk