The newly-opened Time Out Markets in Miami, New York and Boston join the first Time Out Market in Lisbon – opened in 2014 – in spreading the food and cultural market format to other cities around the world. Rooted in the heritage of Time Out magazine (created in London in 1968 to inspire and enable people to explore and enjoy the best of the city), Time Out Market aims to bring the best of the city under one roof – its best chefs, drinks and cultural experiences.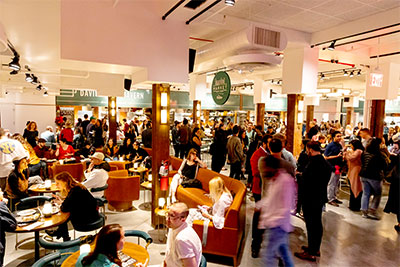 For the new venues' audio, Martin Audio CDD, SX subs, O-Line arrays and Ceiling Series loudspeakers were chosen to provide uniform coverage and exceptional audio quality by New York City-based ear Networks. 'We were asked to design an audio system that could operate throughout the day under various conditions, providing background music during the day, cocktail music during the early evening and a foreground system that could support performances from DJs and bands,' says ear Networks' Kurt Schlossberg.
'Our goals when we designed the system, were for highly articulate vocal reproduction that's neither muddy nor diffuse, very natural sounding music running through a wide variety of current and classic genres and a very contemporary sound for DJs. So we needed a very broad-based speaker system to cover all of the genres, moods and sonic levels. Given all that, Martin Audio offered the best possibilities on every level.'
Overall, ear Networks has deployed Martin Audio CDD8s, CDD12s, SX112, SX212 subs and O-Line micro line arrays in all three venues. The single floor Time Out Market Miami has 24 CDD8s, two CDD12s, three SX212s, two SX112's and four O-Line line array modules along with C6.8T and C8.1T Ceiling Series speakers for the bathrooms, hallways and other ancillary spaces. The CDD speakers are mounted approximately 10ft off the ground at intervals around the room. Three SX212s run the length of the space and two SX112s are used as sub support for the O-Line arrays, deployed for DJ and live band performances, as well as reinforcement for the video wall. Also occupying a single floor, Time Out Market Boston includes 36 CDD8s, eight CDD12s, 11 SX112s and four O-Line cabinets, while Time Out Market New York has 72 CDD8s, three SX112s and six SX212s.
'So far, the venues have been operating in all formats and everything has been flawless,' Schlossberg concludes. 'The CDDs have an extremely wide range and are very articulate through the full frequency range with smooth uniform coverage throughout the venues. The sound is amazing wherever you are in the space.'
More: www.martin-audio.com