Across the Tennessee River from Rick Hall's Fame Studios in Muscle Shoals in Alabama, Overflo Productions is making a name for itself in live sound with a new dBTechnologies VIO sound reinforcement rig.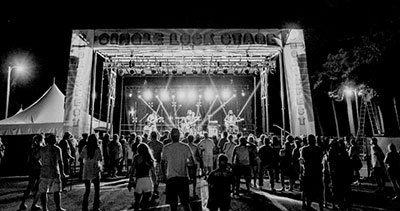 Overflo is owned by Tim Spidel and offers sound, lighting, video and set design to clients ranging from Ludacris to CCM rockers Tenth Avenue North and country acts including the Drive By Truckers. 'We've always had work coming in from all directions,' Spidel says. 'Recently our needs grew for a line array that wasn't insanely expensive, as all of our clients want to sound great and cover a lot of people, but don't have an endless budget.'
Having established a relationship with dBTechnologies four years ago with the Italian company's DVA line array technology, Overflo has now expanded its inventory to include the self-powered VIO family. With 16 VIO L210 and eight VIO L208 active, two-way enclosures along with a dozen VIO S218 subwoofers now at its disposal, Overflo controls its VIO rig using dBTechnologies RDNet Control interfaces communicating via Aurora Net software.
'These boxes are incredibly compact and light,' Spidel says. 'They are perfect when we have to get the power and coverage of a massive show packed into a small truck or bus trailer. Seeing what little space they occupy has shocked some of the artists and managers we work with. If they've never seen or heard a VIO system before, we're ready for them to be sceptical. All we can say is 'trust us'. We have yet to let anyone down.'
Spidel has found that the loudspeakers also deploy quickly: 'If you've done your array calculations correctly, you're at a great starting point right out of the gate and it takes little from there to dial everything in. The coverage, throw, and sonic quality exceed expectations. The separation is great all the way down to the low-end. Our business and profitability have increased since we made this move. It only makes sense to buy more.'