Chico – the California State University – has upgraded its music and audio engineering facilities with the installation of a 24-channel ASP8024-HE mixing console. The new desk has been installed in the dub studio, where Recording Arts students start their journey learning the rudiments of audio and signal flow.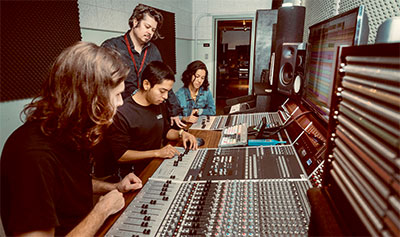 'This console better prepares students to confidently grow into working with more complex systems,' says Recording Arts Program Coordinator, Dann Sargent.
'We run 24/7 with two full studios, one mix/dub studio, two mix/edit suites and one electronic music studio, along with a mobile recording studio and live sound system(s). We work every acoustic environment you would want from dry booths to our new chamber concert hall.'
Advanced students can also be found in this studio working on production editing and mixes 'It has many of the things you'd expect a console of this size would have. Bus matrix, in-line processing, 2-bus processing, full featured monitoring and foldback. I also like that it's a large console, which allows multiple students to work at it and learn at the same time. And – it sounds great.'
Budget was also a factor in the choice of the new desk: 'It's a large0format analogue recording console that doesn't cost me half a million dollars,' Dann assures.
After a painless install that took less than a day to get it up and running, initial reactions to the console have been positive: 'Everyone really enjoys it. It's easy to teach and easy for students to learn the fundamentals of signal flow. Students love both the workflow and look of the console. The walnut trim is a really nice touch, as well. I give tours all the time and prospective students are equally impressed with the ASP8024-HE as they are with the [SSL] Duality,' Dann adds.
All Recording Arts students get to work on this console throughout the year – that's 150 pairs of hands. 'Three times that many will have eyes and ears on it as well,' Dann says. 'With the studios available around the clock, students are already seeking out the ASP8024-HE to book.'
After nearly 30 years of educating students in music and audio recording, the focus of the Recording Arts programme at Chico State remains strong: to build a solid foundation in the myriad of skills necessary to have a successful career in the music industry. 'We're always looking to grow and evolve along with our industry. As faculty, we're engineers and musicians ourselves. We relish the opportunity to bring in new curriculum such as VR, Dolby Atmos, and the reintroduction of ambisonics into modern workflows.
'At the same time, we pride ourselves on the fact the students learn fundamental, lifelong audio skills that transcend consoles or DAWs. Delivery mediums will always change but great music needs great gear and great ears,' continues Dann.
'We're looking forward to the ASP8024-HE serving our programme for years. The true test for the longevity of a console is to put it in the hands of students.
More: www.csuchico.edu
More: https://audient.com