Martin Audio has announced the first sale of its new Wavefront Precision WPS array into the rental community with premier partner Capital Sound taking the system out on comedian Eddie Izzard's UK and Ireland tour.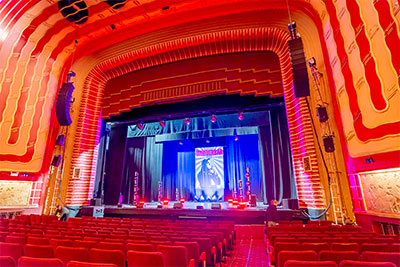 Izzard has toured with Martin Audio PAs on many occasions in the past, but it was his sound engineer Alan Behr, a fan of the Multi-cellular Loudspeaker Array (MLA) technology on which it is based, who had requested the brand. However, looking at the tour itinerary, Capital realised that while some venues would require the comedian to play through existing house systems, in others the restricted rigging and loading points would preclude the hanging of heavy incoming rigs.
'We had to look at lighter options, and besides that, we had been wanting to replace our old W8LM for a while,' says Capital Account Manager, Robin Conway. 'The 10-inch MLA Compact would have been too big and the 6-inch MLA Mini too small, whereas the 8-inch WPS was light weight, flexible and used MLA technology which Alan liked, so it ticked all the boxes.'
He noted that some venue rigging points would only support a few hundred kilos but with each WPS weighing 27kg, a 12-box hang each side could easily be accommodated. The rig is powered by Capital's newly-acquired Martin Audio iKon iK42 amplifiers in the most efficient single-box resolution, to provide control. The WPS is supported by four Martin Audio SX218 subs, two per side, with six DD6 front fills and four XD12 balcony fill.
From the FOH engineer's perspective, he can now enjoy the same optimised EQ curve, given to him by system tech Dan Leaver, as he could with MLA, states Conway. 'WPS has a great rigging system,' he continues. 'It wheels in on four-high carts and goes up in the air very quickly.'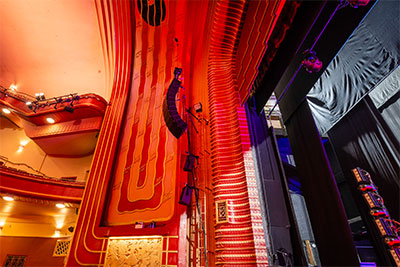 'Having put the system through its paces over the last few gigs, trying different optimisations, Dan Leaver and I have formed a good idea of its abilities,' Behr says. 'I feel that it is well suited to spoken word in theatres, and having the 1-box resolution gives us enough control over the array's coverage to the point where we are able to deliver consistent SPL in the room while keeping the stage volume to a minimum; this is most important as Eddie is extremely soft spoken and gain before feedback is my number one concern.
'Given the loading limitations in many of the older theatres we are playing, the light weight of the WPS system allows us to fly our full complement of 12 boxes a side in most cases; plus we also have the capacity to split the rig into a flown element and a ground stack for those venues where that configuration provides the best coverage.'
Flying off the four-high carts is easy, he says, 'even using a single motor point, which can be a challenge with some other rigs'.
As a result of this success WPS has been earmarked for fellow comedian Tim Minchin's UK tour. 'We have high hopes for the success of WPS on future tours, including stand-up,' says Capital's Martin Connolly.