Buena Park's Thanksgiving Church recently called in Solid Sound Solutions to upgrade its sound system, resulting in the installation of 24 dBTechnologies VIO L208 loudspeakers, VIO 218 subwoofers and full-range, horn-loaded Ingenia IG1T and IG2T enclosures.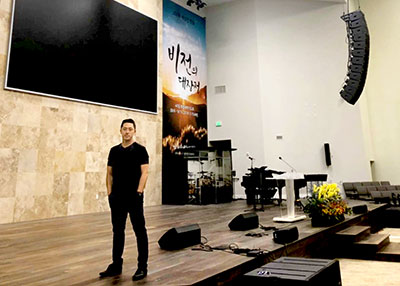 Located in Buena Park, California, the church used an audio blueprint penned by Solid Sound Solutions founder and owner Troy Choi – who has won attention for his work as monitor engineer for rock band Toto and as the primary mix engineer for La La Land in Concert, a series of screenings of the Oscar-winning film that incorporates a live orchestra, jazz ensemble, and choir.
'Beyond what I've been doing with Toto and the La La Land project, it seems I've gained a reputation of sorts lately for my work with churches in Greater LA,' he says. 'I never purposely set out to gain this kind of recognition; it all started last year at the Berendo Street Baptist Church in Koreatown, where I proposed some ideas, they liked what they heard, and then loved the results. Word spread about how good the system sounded, and pretty soon I was getting queries from other churches all around Southern California.'
Having used dBTechnologies VIO L210 loudspeakers and VIO S318 subs as central components within the Berendo Street Baptist Church install, Choi drew inspiration from the design to make his mark at Buena Park's Thanksgiving Church, which is one of the more respectably-sized houses of worship in Orange County. When he was done, a dozen dBTechnologies VIO L208 enclosures were flown per side, and a pair of VIO S218s were chosen for subs. Two Ingenia IG1T cabinets stand-in as front fills, while a pair of Ingenia IG4Ts serve as side fills.
The New Life Christian Church in Glendale additionally revitalised its sound with the assistance Choi and Solid Sound Solutions' earlier this year. Here, a system comprising a total of 18 dBTechnologies DVA T8 enclosures was deployed in a configuration bringing six per side to the house left-and-right, and three more per side for delays.
'Solid Sound Solutions is a small company, but we're on the move,' Choi adds. 'With dBTechnologies, we've been both able to provide our clients with serious performance and sonic quality at prices they can afford. That's been a major factor in our growth, and is propelling us at a steady rate into corporate and other markets as well.'
More: www.dBTechnologies.com