Germany's Elbenwald Festival is a meeting point for film fanatics, fantasy enthusiasts, gamers and music fans, and took place recently for the last time in the Event Park Luhmühlen before moving to a new location next year. With readings, meet-and-greets, workshops, rock/pop concerts and symphony orchestras perfoming movie soundtracks, it presents a challenge to its technical services provider.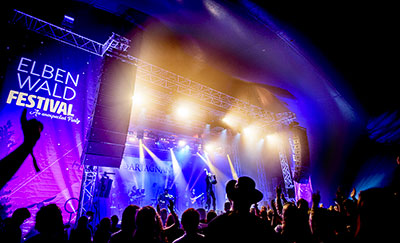 Taking up that challenge, German company PM Blue followed its work at A Summer's Tale a week earlier at the same location, as a technical service provider for sound, light and video for a sixth year. PM Blue relied on audio equipment from RCF.
One of the central locations of the four-day event was a 4,000-capacity tent. Here, musical performances ranged from German medieval rockers Schandmaul to a large symphony orchestra.
To meet all these diverse requirements, PM Blue opted for a system comprising only RCF components. On stage, two hangs of ten HDL 50-A modules served as the main array, with four TT 22-A as in and out fill. In front of the stage, 12 Sub 9007 boxes were configured in cardioid mode.
The flexibility of the RCF system was demonstrated at the grand finale of the festival. The Pilsen Philharmonic Orchestra played film music from classics such as Lord of the Rings, Indiana Jones, Harry Potter and Star Wars. 'We have only received positive feedback on the sound from the FOH people and the artists alike,' says PM Blue MD, Tobias Lange. 'It is difficult to make a symphonic orchestra sound particularly good in such a tent. But the HDL 50-A system and the other components from RCF combined with the RDNet control software, this is also a workable task.'
More: https://pmgroup.de