Adding Papi Steak to its to portfolio of dining and entertainment ventures in Miami, Groot Hospitality again called on A/V design/build firm Electronic Designs for the installation of DAS Audio CL and Quantum Series speaker systems. With top-notch dining, service and hospitality on its main menu, Papi Steak also serves up high-impact 'fun'.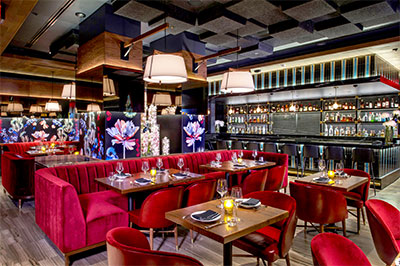 A distributed audio system encompasses the main dining area, bar and private dining room (PDR). Amplification is provided by a combination of Crest Audio Pro-Lite 2.0 and Pro-Lite 5.0 power amplifiers, along with audio processing by BSS. The entire set-up is accessed and controlled via an Apple iPad. There are 32 CL-6-TB ceiling speakers throughout the venue, configured as a distributed set-up that allows conversation over BGM. The DAS Q-10 passive subwoofers are small enough to tuck into the millwork and the seating arrangement, providing performance as well as low visibility.
'It was very important that the sound system be every bit on par with other aspects of the venue,' says Jon P Graney, Electronic Designs President. 'To ensure the finest music reproduction capabilities, we deployed a combination of DAS Audio CL-6-TB two-way passive, co-axial, 6-inch ceiling mount loudspeakers, mated with six Quantum series Q-10 passive subwoofers.'
'We're thrilled with the outcome of this project, having met the client's needs and delivering an excellent product,' Graney reports.