Nashville's Hutton Hotel recently completed work on a new live music venue called Analog, alongside 'writers' studios' production rooms conceived by Dierks Bentley and Ryan Tedder. Part of ongoing renovations, the work called on equipment from Bose Professional, including ShowMatch and RoomMatch Utility modules.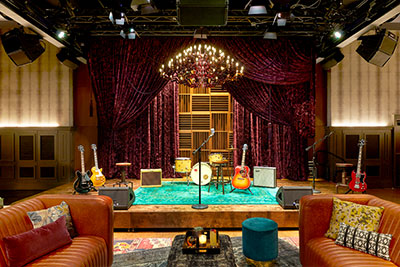 The 5,000sq-ft music venue and cocktail lounge, which takes up the footprint of a former parking facility and is two storeys high in the centre, usually seats 160 but has a maximum capacity of 300. The hotel wanted the venue to reflect its intimate vibe. The venue's entertainment is programmed in collaboration with GreenLight partners Red Light Management, whose diverse artist roster includes the likes of the Dave Matthews Band, Luke Bryan and Lionel Richie.
Spearheaded by LA-based GreenLight Media, Nashville-based British acoustician Michael Cronin was hired to bring the venue and the two production rooms to fruition. Cronin subsequently brought in noted A/V integration firm Clair Solutions, who worked closely with Cronin and the venue to spec the A/V system.
'It's like being in your living room,' says Cronin. 'The stage is 18 inches high and you can sit on a couch two feet away. It was a challenging space. Then you have upper VIP areas overlooking the stage with a bar under one and seating under the other. You have so many different reverberation times within the same space. But I was extremely happy with the outcome. There isn't another live venue like it in Nashville.
Cronin acoustically treated all surfaces in the space, drawing on his extensive experience with 200 music production facilities, including The Church in London, Blackbird Studios in Nashville and Mutt Lange and Shania Twain's private studio in Switzerland. The new construction is acoustically isolated from the hotel floors above.
Clair Solutions was called upon to integrate the sound and lighting systems. 'The goal was to have a vintage-style speakeasy. They didn't want to see a lot of speakers,' says Nashville Regional Vice President of Clair Solutions, Daniel Heins. 'Our lighting designer came up with some real vintage lighting fixtures from the 1920s and incorporated those.'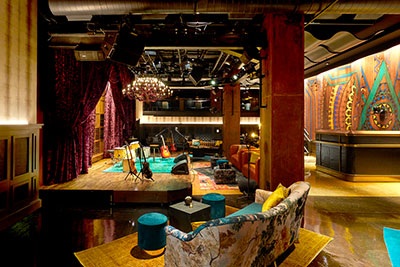 'Bose was great for finding the right speakers to put in the right spots,' such as above and below the balconies, says Heins. 'They were involved in the project from the very beginning and provided great engineering support for us. And Bose has Modeler, a great acoustic design program that we used to predict the speaker coverage in the room.'
The main rig comprises eight Bose Professional ShowMatch line array modules with seven RoomMatch Utility RMU208 and six RMU105 loudspeakers providing under- and over-balcony coverage. Six Bose PowerMatch PM8500N and PM4250N Dante-networked amplifiers drive the system, which is managed by a Bose ControlSpace ESP-880 processor. Four Bose MB24 dual-12-inch subwoofers are hidden from view. 'We worked with the architects to incorporate the subs into the wall and keep them inside the acoustic envelope. You don't want the live music venue impacting the rooms above with musical energy,' says Heins. Clair Solutions also installed a background music system consisting of 11 Bose Professional FreeSpace DS100F coaxial in-ceiling speakers, PowerMatch PM8500N amplifiers and an ESP-880 processor.
Designed for musicians under the direction of Red Light Management, the venue offers state-of-the-art sound equipment for an unparalleled live music experience. Together with a low-profile, modular stage and couches in the front-row, artists can truly connect with their audiences. 'My hat's off to Executive Project Director Tom Williams at GreenLight – he put a great team of people together,' Cronin says.
Clair Solutions' Project Manager/Senior Technician Andy Gregg oversaw the project.
More: http://pro.bose.com