Both beautiful and unique, the 1,300-seat sanctuary at Eastmont Baptist Church in Montgomery, Alabama, was crippled by a 'Frankensteined' sound system – an unholy assemblage of components and patches that sounded bad from the start and got worse over time. The cure was administered by AVL integration firm Emmaus Media & Design, who worked with the Eastmont team to design and install a high-fidelity Danley Sound Labs sound reinforcement system.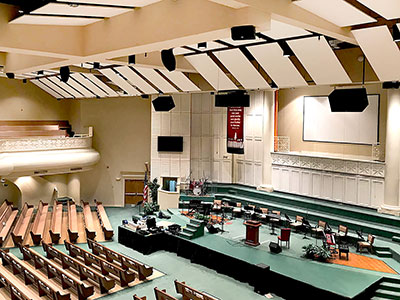 With pews that wrap around a stage wider than it is deep, and a large balcony overhangs much of the main floor in a similar wrap-around design the sanctuary's overhang made good sound reinforcement for Eastmont's orchestra and choir challenging under the best of circumstances. Under Emmaus Media & Design's management, Danley's point-source pattern control allowed Emmaus to hit every seat with high-intelligibility coverage that varies by no more than 1dB.
'In addition to its regular Sunday services with orchestra and choir, Eastmont hosts a lot of touring acts,' explains Emmaus Media & Design owner, Tim James. 'The previous sound reinforcement system was a conglomerate of components in a centre cluster that was original to the building 20 years ago. The integrator evidently went out of business halfway through the project. It was a mess…
'The coverage was terrible. You couldn't walk five feet without it changing. The balcony had no high-frequency content at all. Intelligibility was abysmal. When touring acts came through, they always had to bring their own PA. Eastmont wanted a new system that would sound fantastic day-to-day and that would make them proud when touring acts came through.'
James had three goals. First, he wanted to give Eastmont a stereo system to bring its music to life. Second, he wanted a system with excellent pattern control so that he could hit all of the seats without exciting the rather live acoustic space. Finally, he wanted boxes that could hit concert-level SPLs in service of the touring acts.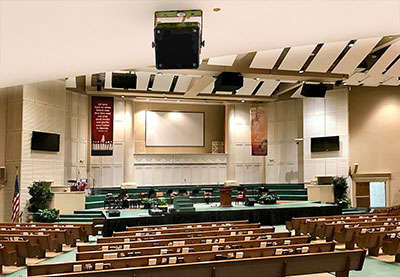 'Danley is unique in delivering high fidelity, high SPLs, and great pattern control even at lower frequencies,' he says. 'I looked at the drawings and worked out a Danley system that would cover everything.'
A pair of SH96HO full-range loudspeakers serve as the mains, with a DBH218 subwoofer supporting the low end from the centre-flown position that was previously occupied by the Frankensteined centre cluster. Six SHMicro loudspeakers provide delay to the balcony, while eight Nanos do the same under the balcony.
'Since the room is very wide and the seating wraps around the stage a bit, I needed some side fill,' James says. 'The tricky thing is that the floor seating near the sides is under a sizable balcony projection. So, to cover that front seating, I used a SBH20 column-form loudspeaker on either side. Its wide horizontal coverage hits all of the seats I needed it to hit and its narrow vertical coverage kept sound off the balcony. It's an unusual use of an SBH20, but it works well.'
James flipped the stereo signal to the side fills so that everyone gets to enjoy some stereo spice. In addition, two more SBH20s flown from the catwalk cover the choir at the back of the stage without exciting the back wall. QSC PLD-series amplifiers power the system with Ashly processing.
'In addition to all of Danley's excellent sonic properties, the boxes have a great form factor and aesthetic,' James observes. 'Throughout the installation process, church staff kept commenting on how clean everything looked. It proves that you don't need a ton of boxes to achieve results. I love how it came out and so does everyone in the church. The fidelity is stunning, and it extends to every nook and cranny in the room.'
More: https://emmaus.media
More: www.danleysoundlabs.com