To serve its diverse and growing congregation, Eastminster Church recently installed a new Allen & Heath dLive C3500 Digital Mixing System at FOH and ME-1 Personal Mixers as monitors on stage. The church, located in Wichita, Kansas offers both traditional and contemporary worship services, a variety of youth programmes, frequent concerts and special events along with outreach services that include hosting a Congolese refugee church with services in Swahili.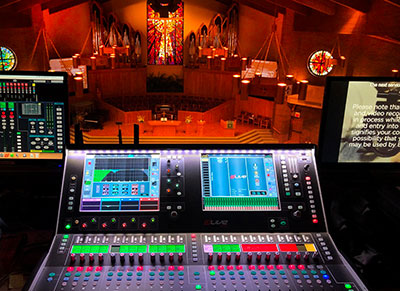 'Our previous digital mixer didn't give us the flexibility we needed or the ability to make quick changes between services so we began to search for a replacement,' explains Eastminster Director of Technology, Nick Hofmeister. 'I personally own a Qu-16 and I love the workflow on that mixer so, for me, the first place to look was Allen & Heath.'
Hofmeister contacted Marcus Hammond, Church Resource Director at Stark Raving Solutions, who recommended am A&H dLive C Class system with C3500 Surface, CDM32 MixRack, a Dante Card and two DX168 Expanders. Accompanying the system is an Allen & Heath ME Personal Mixing System for monitors, consisting of eight ME-1s and an ME-U Hub.
'The dLive has the channel count they needed along with scene recall for quick changeover between services. And, the dLive connects natively to the ME-1s for personal monitor mixing,' Hammond says.
Hofmeister uses the dLive MixPad App to adjust both the FOH and monitor mixes: 'Our sound booth is almost three stories up and 100 feet from the band so it's difficult to get a good mix. But, with the MixPad App, I can walk around anywhere and mix. That's been a real game-changer for us.' Band members use the ME-1s to do their own in-ear monitor mix while vocalists adjust their in-ear monitors on an iPad using the dLive OneMix app.
Eastminster streams its services to local assisted living homes and to overflow and childcare rooms inside the church. Hofmeister makes multitrack recordings of worship services using a Mac Mini with Pro Tools connected via Dante to the dLive and he also provides a stereo mix for DVD recordings. He saves profiles of individual input channels to the dLive library for quick setups.
'We've been very happy with the dLive's internal effects which sound very natural,' Hofmeister reports. 'And, I've received tons of compliments from people about the sound. Also, the band really appreciates the dLive's low latency in their monitor mixes and we've noticed a distinct improvement in the clarity of speakers' voices as they preach.'
More: www.allen-heath.com