Since starting the business in 2015, the group of young entrepreneurial friends who formed Madrid's Lalala Group has opened 12 bar/restaurants. The latest, on the city's fashionable Calle de la Princesa, features a Yamaha audio system that is keeping both customers and the city council happy.
Lalala Group calls its venues 'modern beerhouses', which all follow a core theme but each unique personalities. Located in one of Madrid's most popular areas, the latest Lalala Group venue, Alboroto, has a spacious dining area, two bars and a cocktail menu complemented by a choice of music that encourages patrons to enjoy celebratory nights out. DJs maintain a lively atmosphere from Wednesday to Saturday, with live performances at weekends.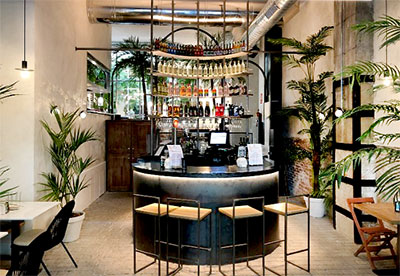 Being in an area with many bars and clubs, Lalala Group wanted to ensure that Alboroto's audio system would be as good – preferably better – than nearby venues. But it was vital that it would not exceed the SPL limits set by the city council.
A/V company Salas Audiovisual worked with architects MR Arquitectos on the project, recommending a Yamaha CIS system addressing two precisely defined zones. One covers Alboroto's bars, which are closer to the entrance, programmed to deliver high quality sound at lower volume. The second zone covers the dedicated DJ and live performance area, which has a small dancefloor. Being further into the building, here a greater SPL is permitted.
The heart of the system is an MTX3 matrix processor, which matched Lalala Group's demands in terms of audio quality and versatility, its limiters guaranteeing that the levels at the entrance comply with the noise regulations.
Four Yamaha VXS8 speakers powered by a PX3 amplifier were chosen for this area, delivering a high0quality, cost-effective solution from units that are inconspicuous enough not to impact on Alboroto's visual design. In the dance and DJ area, four Yamaha DXR12 powered loudspeakers and two Yamaha DXS15 MkII powered subwoofers were installed to provide plenty of quality and power to meet the demands of DJ sets and live performances.
Another challenge was that the system had to be easily managed by any member of staff. The MTX3 was programmed with presets for different levels during the day, in the evenings and at the weekend, with Yamaha's Wireless DCP app installed on an Android tablet providing very straightforward control.
'Once I saw the equipment installed and I could hear the results, I knew that the installation was going to be a complete success,' says Salas Audiovisual owner, Luis Salas. 'My client has been pleasantly surprised with the results, which further strengthens my relationship with Yamaha.'
More: www.yamahaproaudio.com