A Brief Inquiry Into Online Relationships will see British pop-rock band The 1975 on a two-year world tour that takes in venues ranging from regional halls to big city arenas. This variation required the production team to spec a flexible and powerful sound system, making the tour one of the first to take d&b audiotechnik's KSL on the road.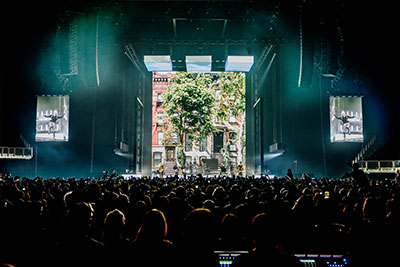 'Musically, this band is very eclectic, so you really need a sound system that covers all of those genres and styles,' says FOH engineer Jay Rigby. '[Lead singer] Matty Healy and drummer George Daniel produce their own albums – they know exactly how they should sound live and they have the technical expertise to communicate that effectively.'
Rental house Eighth Day Sound has worked with The 1975 for their past two albums. As early adopters of new d&b technology, they collaborated with Rigby to specify the KSL System for this tour. 'One really interesting thing with the KSL is that the vocal range is just incredible – that crossover point between the mid and the high is so smooth that you don't really hear any horn distortion and the voice is just so smooth all the way through,' says Rigby. 'The fans want to hear every word that Matty is saying and KSL has made it so much easier for every seat in the house to hear just that.'
Whether playing smaller venues such as The Brighton Centre (4,500 capacity) or large arenas such as London's O2 (20,000 capacity), the art-installation-like set design by conceptual designer Tobias Rylander scales accordingly, and sound follows suit. 'We bounce into different sized venues on an almost daily basis and KSL sounds great in all of them,' says Rigby.
Eighth Day Sound's system engineer Dan Bluhm says of KSL: 'It has been a fantastic addition to Eighth Day's inventory and has fit our needs for The 1975. KSL provides us with a tonal consistency as well as even level distribution from the top, back-of-the-arena seat down to the floor. It has allowed us to provide a similar audio experience to every seat.'
'Being able to use the KSL in many different sized venues has benefited this band and tour. They love to play venues from arenas one day, to a theatre the next day, and then a club the day after, so we really need a system that's able to scale. For us, d&b KSL has been a wonderful product where you can hang six, twelve, or whatever is necessary for the venue you are in.'
Faced with such variety, Bluhm uses d&b ArrayCalc and R1 control software to plan, implement and optimise the sound for each venue. 'The d&b eco-system drives my day. From starting with ArrayCalc prediction software for room measurement and determining speaker angles. Then transitioning into the R1 control system. This allows me to preform system checks and array verification while the system is still at a working height. We're able to check all the components in the boxes, make sure that everything is functioning, and cabled correctly before sending it up. We have found the KSL to be very easy and fast to hang. Our two fly guys are hanging the arrays within a matter of hours from shooting the room.'
'There are three things we really noticed with the KSL,' Rigby says. 'The first was the rear rejection. When you stand behind the PA, it's almost as if it isn't on. The first time we heard it standing behind the array, I didn't believe the PA was on – I had to go out front just to confirm that it was. d&b has done a great job making it a true cardioid box, all the way down to the low end.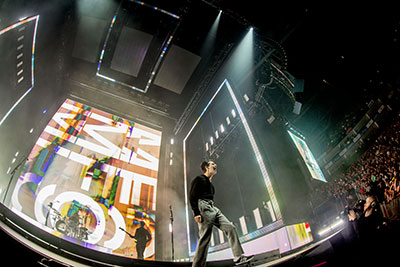 'The second thing is related to that cardioid performance. Traditionally, with other boxes, you get down to the low mid-range and the cardioid pattern goes away, so you end up with a lot of low mid lobing off to the sides. By solving that, you get the appearance that the box is actually wider than it is, so as you walk around from the main, to where your side hang coverage would normally start, you feel like the coverage continues over further, because the relationship between the low end and the high end stays consistent.
'The third thing is the low mid content in the box. You get a lot more, punchier low end, which in certain situations means you'd be able to use either less subs, or none at all. The KSL has a 10° vertical dispersion, so you get more vertical coverage which means in certain situations you could fly a couple less boxes. On previous tours we carried 22 boxes of J on the main hang, where on this run we are carrying only 20 KSL.'
Monitor engineer Francois Pare also feels the benefit of KSL: 'The rejection on stage is pretty spectacular – it makes my job so much easier. I'm not fighting the PA as much as with other sound systems, which is kind of nice for the band. Any band likes clarity, it's super important. Again, the rejection keeps the stage down, so it is easier to be clear with mixes.'
'The overall clarity we're getting with KSL, I kind of relate to television, when you're used to watching standard definition and the first time you watch in HD there's this wow factor, where you never knew it could look or sound so clear,' Rigby reports. 'I'm now hearing parts in certain instruments that I never heard before, almost to the point where I'm going to the backline guys to ask if it was there last time.'
See also: