Established in 1994 by Composer, Sound Designer and Dialogue Director Rob King, California's Green Street Studios has accumulated 20-plus years' experience in audio and music production for video games, film, music and other media. Recently, immersive media have been high on its agenda, with a little help from Genele.
Whether a project calls for sound design, music scoring, voice recording, casting and direction, sync to picture or all of the above, this private boutique sound studio – located in Sherman Oaks, just over the hill from Hollywood – has done all that and more for high-profile projects including Ubisoft's Ghost Recon: Wildlands, Activision's Call of Duty: Heroes Expansion and James Bond: Quantum of Solace, and for prominent directors and producers including Michael Bay and Jeff Probst, and commercials for clients such as Honda and Levi's.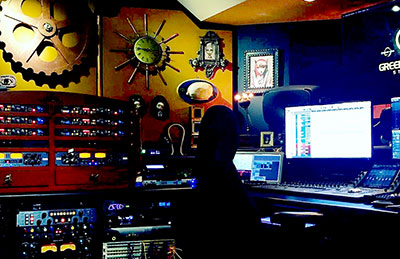 'Green Street Studios has expanded to a full service audio production facility,' says King, who has worked on more than 150 video games, as well as trailers for films including Watchmen, We Are Marshall and Clash of the Titans. 'We have provided audio content for game developers, record companies, ad agencies, corporate kiosks, internet web development, television, marketing firms, and multimedia developers. We have all the latest in high-definition digital recording and editing equipment, as well as a huge vintage mic collection.'
Anticipating the growing acceptance of immersive-sound projects for games, film and television, King has spent much of the last two years auditioning speakers for the 7.1.4 array he knew would become the standard in the emerging immersive media environment.
'I had already seen game development and film move in that direction, and I knew it was a matter a time before formats like Dolby Atmos would become standard,' he recalls. 'Now, all the AAA-level games, like Shadow of Tomb Raider that we recently completed, are being done in Atmos.'
King, who had already been closely familiar with Genelec, as he'd previously owned a pair of 8020As with a 7350 subwoofer, decided to upgrade his set-up and acquired a pair of Genelec 8351A Smart Active Monitors. 'Even as I continued testing speakers, I could not get the sound of those Genelecs out of my mind,' he says.
Those two speakers would become the foundation for Green Street Studios' new monitoring array, joining one Genelec 8341A Smart Active Monitor for centre channel and four Genelec 8331A Smart Active Monitors for side and rear surrounds, four 8320A Smart Active Monitors for overhead speakers, and a 7380A Smart Active Subwoofer.
'Because of the physical dimensions of the studio, the biggest challenge of the Atmos set-up was getting it right in my small space. The Genelec sound is great, but I'm equally impressed with the ability to pick out detail in them, which is important for games but also for music and ADR,' he explains.
Beyond their sonic advantage, however, King says Genelec technology makes a huge difference. 'The GLM software is ingenious and it works great,' he says. 'The speakers are now perfectly matched to the room, and I've also set up presets for 7.1.4, 5.1 and stereo configurations, so I can move between projects at the press of a button. The future, in the form of immersive sound formats, is not just coming – it's here. And with Genelec I have the speakers that I need to feel ready for it.'
More: www.genelec.com