Southern California's Orange County Fair currently runs for 23 days on a 150 acre fairgrounds in Costa Mesa, attracting almost 1.4m people each year. The OC Fair, as it is commonly known, first ran in 1890 and, since 2018, has relied on Pacific Coast Entertainment (PCE) for sound systems and audio engineering services in several areas – including the outdoor Meadows stage, with its audience of about 1,000.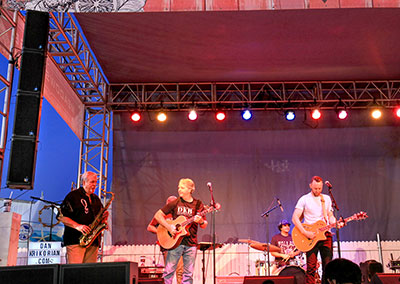 At the 2019 OC Fair, PCE sound engineer Rory O'Connell mixed the Meadows stage using a PA system based on Renkus-Heinz' new ICLive X-series digitally steerable arrays.
'The Orange County Fair has a very strict sound ordinance, and we did not want noise complaints,' O'Connell says. 'There are a lot of vendors within the same Country Meadows area, and 50 yards away were pony rides, and the ponies would get scared if the music was too loud. So we needed tight dispersion within a horseshoe area about 25 yards from the front of stage.'
The Meadows stage hosted a variety of music. 'The main headliners were country, but we also had rock 'n' roll,' O'Connell reports. 'Some bigger country acts come through, some local talent, smaller rock bands, some country singer-songwriters, a little bit of everything. We had to put a decent amount of SPL on the audience to get the power, without causing issues outside our area. We've used Renkus-Heinz' steerable arrays for other types of projects, and we wanted to test the steering capabilities of the new ICLive X arrays to see how much control we could have in this challenging space.'
O'Connell met the challenge equipped with four Renkus-Heinz IC Live X arrays per side, mounted to trusses, and two IC Live XL subwoofers per side just in front of the stage. 'We had our subs in a cardioid pattern, so we had very little bleed of the sub frequencies and very low sound levels overall onstage, which was especially nice for us because our mix position was side stage,' recalls O'Connell. 'We were really happy with that.'
O'Connell mixed the shows on an Allen & Heath SQ-5 digital mixer with a digital snake to the stage. He sent analog audio from the mixer to the self-powered Renkus-Heinz arrays and subwoofers.
'Renkus-Heinz sent someone out to tune the system a few days prior to the opening, shaping and aiming the beams, and he came back and tuned it further about a week in,' O'Connell reports. 'After that, the performance was flawless, and dispersion was spot on. The falloff was right where we needed it. At the fair, everyone else is pumping audio, too-the food vendors are pumping audio, as are other spaces all around-so you could hear music coming from other locations. But at the Meadows stage, with our ICLive X system, you didn't feel air moving until you walked into the space.'
'The Renkus-Heinz rig was incredible; it sounded great,' O'Connell says of the ICLive X loudspeakers and ICLive XL subs. 'It has a really low profile, and I like the vertical stack. There were no sightline issues, and for the size of those boxes, they really pushed some air. This is the first time we've used Renkus-Heinz arrays for a production of this type, and we want to do it a lot. It was a great outing, and we are very happy.'
'I have worked with many manufacturers over the years, and Renkus-Heinz has a wonderful line of great sounding products,' says PCE owner and CEO, Ryan Steidinger. 'The company is big enough to service any size job I might have, while still being small enough to truly care about my projects. If I need to, I can speak with the system designers, or management, or even the ownership. They focus on service and making sure my experience and my customer's experience are absolutely satisfying. This is why I choose Renkus-Heinz over others for creating solutions that just make sense.'