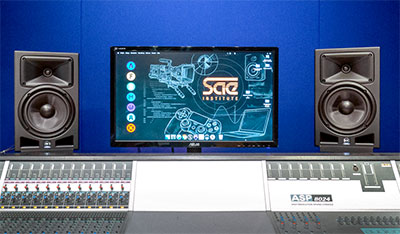 The SAE Institute in Cologne has become one of the first users of RCF's new Ayra series of professional studio loudspeaker.
'The Ayra Pro monitors convince with their simple design, spheric sound and crystal-clear localisation,' says Lukas Middlemann from the SAE Institute Cologne. 'You can quickly get involved with the loudspeakers and assess the frequency spectrum cleanly. The Ayra Pro monitors are therefore well suited for transparent work! In an everyday student life, the pair is very well received. Students love the stereo image and the rich sound. The Ayra Pro enables them to mix very self-confidently.'
The active Ayra Pro studio monitors are available in 5-inch, 6-inch and 8-inch sizes and feature RCF's advanced FiRPhase technology. Ayra Pro Studio monitors are the only monitors in their class to offer an excellent 0° linear phase response.
In addition to studio applications, RCF has aimes the Ayra line at musicians, sound engineers, video producers and podcasters for close-field applications in the studio, for broadcast and multimedia. All Ayra Pro models are equipped with two low-distortion True Active class-D amplifiers. The integrated limiters prevent extreme overdriving at any volume and thus damage to the transducers.
RCF's Ayra Pro are based on proprietary FIR filter technology FiRPhase, which ensures transparent sound, absolute clarity and perfect stereo performance. The FiRPhase algorithm optimises dynamic processing, amplitude and phase response while minimising system latency for real-time monitoring.
More: www.rcf.it