The first restaurant to be opened outside his native Russia by Arkady Novikov, the Novikov Restaurant & Bar has enjoyed huge success since its opening in 2011 and remains one of the favourite haunts of London's glitterati. Located in Mayfair, it occupies three floors with two restaurants and a highly exclusive basement lounge bar.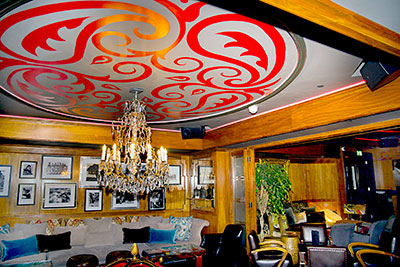 When the venue decided to upgrade the sound system in the lounge, it turned to Toby Jones at Middlesex Sound & Lighting for advice. 'When I visited Novikov to see what could be done, I saw straight away that KV2 would be the ideal solution, but I didn't want them to take my word for it,' he says. 'I insisted on a demo in situ so that they could compare with their current system and judge for themselves. They instantly fell in love with the product so we were given the green light to proceed.'
For the main lounge and bar area, Jones specified eight ceiling-mounted KV2 ESD10 compact, two-way, high output loudspeakers with a 10-inch trans-coil woofer and a wide dispersion rotatable horn supplemented by two high power ESD1.18 and two slightly smaller ESD1.15 subwoofers. Two compact, low-profile ESD25s serve as powerful yet discreet infills for one of the lounge areas off the main room. A second chill-out zone known as the Union Jack room is served by four ESD6s and a single ESD1.15 sub. Finally, the DJ booth has been equipped with a pair of ESD6s and another ESD1.15 sub.
'Novikov was looking for a system that delivers clarity, even coverage throughout, and true depth of audio – in other words, sonic excellence,' Jones says. 'The lounge is a destination venue in its own right with world class DJs performing every week, so it needed a world-class solution, including the DJ monitor system. KV2 provides everything required from a sonic point of view, and we were even able to use the existing infrastructure based on a BSS Soundweb London Blu-100 DSP backbone controlled via a Blu-10 touchscreen, which is capable of managing the three zones. The results are superb.'
'Toby and his team have done a great job in upgrading the sound experience in the Lounge to the level it deserves to be at, even while retaining key elements of the previous installation,' Novikov Operations Manager Grant Lee agrees. 'The DJs love it – KV2 is pretty well known in the club scene anyway – and our guests love it. We can create a proper Ibiza-style vibe at night with decent levels that sounds amazing – clean, detailed and zero distortion – and a smooth, low level chill-out atmosphere during the day. We're all very pleased with the results.'
More: www.middlesexsound.co.uk
More: www.kv2audio.com